Everyone knows the feeling of being robbed by their bank. Between ATM fees and hidden monthly maintenance fees, it seems like banks take your money at every opportunity. Add that to the recent high profile scandals plaguing some of our biggest financial institutions and it looks like bankers are one step away from putting on ski masks and holding people up in the lobby. Actually, they're doing that now, too.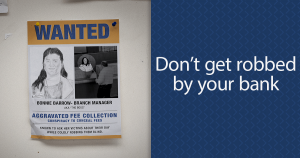 At least that's what's happening in the newest work from Axos Bank​. In this hilariously quirky campaign, titled Banker Robbers, we see a classic movie-style bank heist, except the robbers are the bank employees and the victims are the customers. Bank tellers throw on ski-masks, hop over the counters, and run through the lobby snatching money from customers' hands, all while maintaining the artificial politeness you'd find in your local national bank branch.
It's a fun, if not unsettlingly accurate imagining on what the average bank does to its customers, and a broader social statement on the distrust we feel toward our financial institutions today.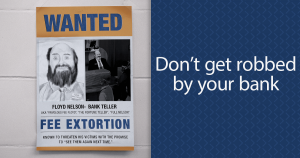 The hero spot introduces Axos as a bank designed to put its clients first and leverages the fact that consumers are increasingly distrusting of the industry that often 'robs' them by hiding fees in the fine print.
"We appreciate the creativeness that Cutwater displayed in its development of a distinctive campaign to parody the current level of fees paid by customers of many retail banks," ​said Greg Garrabrants, CEO of Axos Bank. ​"Given that Axos Bank's consumer checking accounts are generally free of almost all fees charged by traditional banks and provide higher rates of return, we are consistently recognized by third-party evaluators as having one of the most consumer-friendly checking accounts in the country. Cutwater did a terrific job of communicating this important message in an engaging and memorable way."
Other spots in this campaign, created by Cutwater and directed by Hungry Man's Craig Brownrigg, feature confused customers describing their banker to a police sketch artist, the robbery from the point-of-view of the bank security cameras, and an awkward conversation between a larcenous teller and an unsuspecting customer.
Through this work, Cutwater and Axos aim to engage tech forward, self-sufficient people who are motivated by efficiency and superior digital expertise, as well as people who are just plain sick of being robbed by their banks. These people want a bank that's honest, hassle free and gives them the tools to be entrepreneurial – all of which Axos delivers.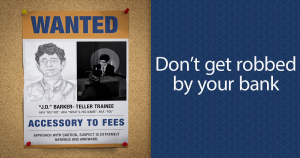 "​We are thrilled to have the opportunity to introduce Axos Bank to the world, " said Chuck McBride, Founder and Chief Creative Officer at Cutwater. "From the onset of our relationship, Axos championed our ideas which ultimately made this campaign a joy to bring to life."

In addition to the spots, the campaign also includes 'wanted' posters that will be distributed across social platforms, as well as native placements featuring the (fake) security camera footage of the 'robbery' along with a parody news story. Axos Bank is launching the campaign with a media effort in five initial markets (San Diego, Orange County, Austin, Minneapolis/ St Paul, Kansas City).​
​Cutwater currently serves as Axos' agency of record and is executing media planning and buying for the campaign.
Source: Cutwater