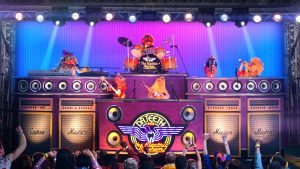 Barclaycard is launching an integrated marketing campaign with help from The Muppets to show customers how they can get more from their live entertainment experience.
The multi-channel campaign for the new show-stopping proposition, 'Barclaycard Entertainment', will build on the brand's heritage in entertainment by introducing benefits exclusively for cardholders – including ticket offers and perks for over 3,500 live events a year.
The above-the-line activity will launch with a 30-second TV advert featuring an ensemble cast of Muppets, who are coming to Britain for a very special gig celebrating Barclaycard's 'more good times' proposition. At the rock festival, we see The Muppets' 'Dr. Teeth and the Electric Mayhem Band' – featuring fan favourites Sgt. Floyd Pepper and Animal – perform to a wildly enthusiastic crowd of festival-goers who include Kermit the Frog, Miss Piggy, Fozzie Bear and the Great Gonzo. As always with the Muppets, mayhem and hilarity ensue. The spot will air on May 18 at 19:45 on Coronation Street.
The cut will also be shown on Video on Demand and in cinemas. Bespoke social films – with more content featuring other beloved Muppets such as Beaker and the Swedish Chef – have been created and optimised to run across multiple social media platforms, with promoted activity on Facebook, Instagram, Twitter, Snapchat and YouTube.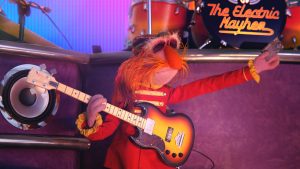 The proposition will be showcased via hand-selected out-of-home sites across the UK, including large-format digital screens in prime locations such as the iconic Marylebone Tower, Canary Wharf Curve and Holborn Eye. Transvision screens in national rail stations will display full-motion creative, complemented by digital escalator panels in nine London Underground locations throughout the West End. In addition, a press wrap on the London Evening Standard is scheduled for launch day, and more adverts are set to appear in the publication the following week.
Customers will receive a suite of communications celebrating the launch, including special statement inserts featuring The Muppets. All materials will direct customers to the new Barclaycard Entertainment portal – with a Muppet-themed takeover – where they can browse and book the events on offer.
The launch of Barclaycard Entertainment coincides with a growing trend to spend on the 'experience economy', or leisure time with friends and family, over buying physical goods. Data from Barclaycard reveals spending on entertainment increased 10.1 per cent year-on-year in 2017, with big ticket releases in particular responsible for much of the growth.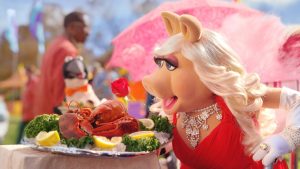 With a long history of supporting live entertainment – including sponsorships with ticket vendors, arenas and large-scale festivals including Barclaycard presents British Summer Time Hyde Park – the launch of the proposition is a natural next step for Barclaycard to help customers get more from every event. Benefits for cardholders include five per cent back on tickets, ten per cent back on exclusive festival pre-sales, and extra perks like saving five per cent on selected food & drink at O2 Academy venues.
Barclaycard Entertainment involves tie-ups with some of the biggest names in the industry and kicks off today with a new partnership with Live Nation and the Academy Music Group. This means customers will benefit from these perks across all 19 O2 Academy venues and a number of UK festivals, and is in addition to the existing partnerships with AEG and The Ticket Factory.
Alex Naylor, UK Marketing Director at Barclaycard, said: "With the experience economy booming, there is no better time to help customers get more from every gig, concert and festival. With special benefits and event perks built in, Barclaycard Entertainment will bring consumers even closer to their favourite acts. The Muppets are synonymous with entertainment so working with them to launch this campaign was a no-brainer – they have been putting smiles on people's faces across the world for generations. With their star power behind our activity, we're all set to kick-start Barclaycard Entertainment with a bang."
Source: Barclaycard