We've all fallen prey to clickbait. Those small innocuous looking posts in our Facebook feeds with 'interesting' headlines created to combat banner blindness. Posts most of us cannot resist clicking which usually lead to a double digit lift in click through rates.
With that in mind, creative agency BBR Saatchi & Saatchi decided to put this knowledge into practice for 'Bekol', Israel's Organisation for the Hard of Hearing, and get people to take a hearing test in spite of their reluctance to do so.
Appealing to the 85 percent of Facebook users who usually view videos with the sound off, we dared them to click on our post. Those who clicked were surprised to discover a video with a soundtrack that did not quite match the cute picture portrayed.
A soundtrack which once added, presented in fact a whole new and creepy narrative. Viewers who still thought our campaign video was cute, fun or even romantic were invited to get their hearing tested by Bekol.
Credits: 
Air Date: December 2017
Agency Credits: BBR Saatchi & Saatchi
CEO: Yossi Lubaton
Chief Creative Officer: Idan Regev
Creative Director: Kobi Cohen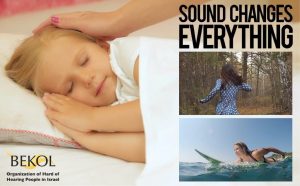 Creative Team: Ronni Azulay, Idan Levy
Creative Technology Director: Roy Zoaretz
VP Client Services: Ben Muskal
VP Content & Production: Dorit Gvili
Account Supervisor: Reni Bracha-Landau
Account Executive: Shiran Atuan Rachamim
Marcom Director: Eva Hasson
Digital Studio Manager: Michael Shelly
Video Editor: Eyal Vinizer
Source: BBR Saatchi & Saatchi