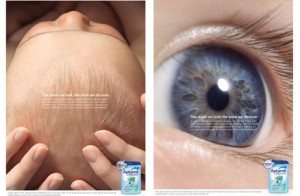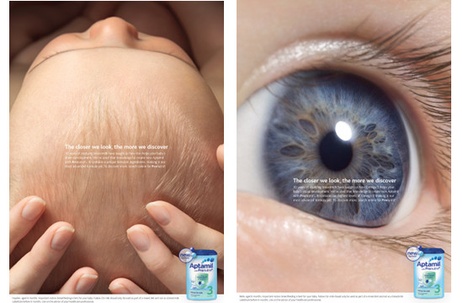 BETC London has produced a standout print campaign to support the launch of Aptamil with Pronutra+ range of baby Follow On milk in the UK. This is the first creative work from BETC London for the Aptamil brand from Danone Baby Nutrition. In 2012 BETC launched the popular 'Supergroup' for sister brand Cow & Gate.
The print campaign launches the new Pronutra+ range, Aptamil's most advanced formula yet. The three print executions (Eye, Head and Thumb) highlight and explain three key benefits of the blend with extreme close-up photography, leading with the line 'The closer we look, the more we discover'.
'Eye' demonstrates the product's highest levels yet of Omega 3 to help develop babies' eyesight. 'Head', the inclusion of iron that contributes to normal cognitive development of children, and 'Thumb' demonstrates the growth and development of healthy bones in children that Vitamin D provides.
The visually stunning print campaign is based on shots by leading photographer Tim Flach and will feature as SPS in titles from this week plus a series of special formats.
BETC London has had a strong first half to the year launching the ubiquitous Diet Coke 'Gardener' TV spot, striking a chord with women across Europe with the revival of the 'hunk'.  In February the agency won the global Bacardi account from WPP with an iconic campaign set to launch later this year.