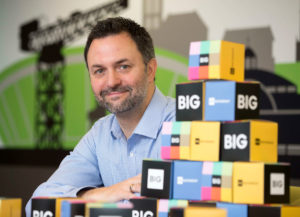 Scotland's largest PR and digital marketing agency, BIG Partnership, has boosted its senior team with the appointment of a new client services director.
Colin McNab, who has more than 25 years' experience working with some of the UK's largest digital marketing and design organisations, has been appointed to lead BIG's client services strategy.
In addition to his new role at the agency, Colin will remain a committee member on HM Revenue and Customs' digital services group and guest lecturer in business at the University of the West of Scotland and Glasgow Caledonian University.
Colin has been behind some of the UK's most prominent marketing campaigns, including being part of the team which led Digital UK's 'Digital AL' project, dubbed the single biggest marketing campaign in UK history during the switchover from analogue to digital TV.
He will work across the company's six offices in Glasgow, Edinburgh, Dunfermline, Aberdeen, Dundee and Manchester, and will play an integral role in BIG's business development strategy.
Bryan Garvie, director at BIG Partnership, said: "We have an ambitious UK growth plan and Colin will be a strong influence as we make progress against that. As well as a contact book lots of agencies would kill for, his experience in working with big brands on digital and design strategies will help us continue to grow this side of our business."
"Colin will also support us in identifying how we can enhance the services we currently offer to clients, further integrating our PR, digital marketing and design work. He's a great guy to have on board and we look forward to working with him in the months and years ahead."
Colin McNab said: "Joining BIG is a fantastic new challenge for me after three years in consultancy. BIG's a hugely ambitious business with a great story to tell and the opportunity to have the strength of a renowned agency behind me is a really exciting prospect."
Source: BIG Partnership