Tisserand, the British aromatherapy brand, has collaborated with Ascot Racecourse to create a bespoke range of bath, body and homecare products, with a vibrant and evocative identity by branding and design consultancy Biles Hendry.
Since 1974, Tisserand has been offering high-quality, affordable aromatherapy products. This new association with Ascot allows the brand to build its global status, introduce premium tiering, and engage a more upmarket target through prestigious retailers and events such as Royal Ascot.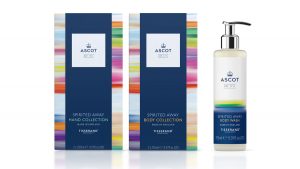 "The creative challenge," says Anthony Biles, founder and creative director of Biles Hendry, "was to find a connection between the world of horse-racing and aromatherapy. Our answer lay in sensory experience."
The design avoids the expected – history, horses and pageantry. Instead, it captures a moment in time: the rush of both race and occasion, the blur of the jockeys flashing by in their coloured silks, and the race-goers mingling in their smartest outfits. It is this feeling, this elation and sensorial immersion, that is mirrored in the indulgence and invigoration of a deep essential-oil-scented bath at the end of a long day.
As well as the painterly packaging, the Biles Hendry team devised playful fragrance names that work just as well in both settings: Daydream, Serenity, Blissful Joy, Hope and Cheer, Happy Elation and, coming up on the outside, Spirited Away.
Robin Russell, Tisserand CEO, says: "Co-branding presents unique challenges, but Biles Hendry came up with an approach that reflects both Ascot and Tisserand in an effortless and natural way."
The range will be available at Royal Ascot from 19th June, and at major department stores and selected retailers later in the year.
Source: Biles Hendry