Boden, the British clothing brand unveils the first images from its new US brand campaign via Yard NYC, launching for spring 2019.
Embracing Boden's spring/summer theme of adventure and discovery, the campaign, "Like a Brit" inspires the American woman to embrace a renewed sense of optimism and joy through Boden's glorious British style.
Rolling out in Chicago and Denver throughout the month of April, the campaign explores the different ways of looking, and acting a tad more British. Through playful, stylish, and tongue-in-cheek how-to guides, Boden explores these classic British-isms and behaviours.
Gav Thompson, Chief Customer Officer of Boden, stated, "We have some very loyal Boden fans across the pond, but we really wanted to show them some more of our British style, flair and attitude through this campaign. Like A Brit sums up some of our irreverent spirt and Boden's brand essence of bringing joy through British style."
Leaning on the British way of self-deprecating yet charming wit, through print ads and videos, Boden encourages women to expand their daily routine and include behaviors that make the Brit's so them – i.e. button up like a Brit, workout like a Brit, speak English like a Brit, among others. Boden partnered with Yard NYC for their first US campaign, also marking Boden's biggest marketing push to date.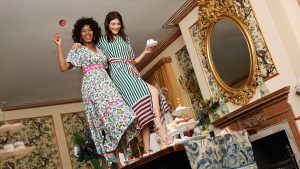 Ruth Berstein, CEO and Chief Strategic Officer Yard NYC, said, "Beatles, Bowie, Boden. The next great British Invasion is here in the form of the brilliant style, confidence and wit that Americans have always desired. Under the Like A Brit platform we're setting the stage and inviting everyone into the Boden world. A fun, colourful and exuberantly- understated world where everything from styling, casting, locations and behaviour is a tad more Brit-ish."
With imagery shot by British photographer Scott Trindle, styled by British stylist Victoria Young in the British countryside, the campaign features Brit model and actress of the moment, Amber Anderson and will launch outdoors in Chicago and Denver, on BodenUSA.com, and across social and digital from April 1st 2019.
Additionally, in Chicago, to further amplify the campaign a brunch cart will roam the streets, passing out mini versions of a traditional British treats – bringing traditional British afternoon tea to those who pass by with special customer giveaways.
Source: Yard NYC