Boost, a new dedicated pay-as-you-go (PAYG) energy supplier, introduces Boost Lee, a new character inspired by iconic martial arts legend Bruce Lee, who will star in the brand's integrated launch campaign created by SNAP LDN.
Founded on the belief that people want the freedom to top up their energy when and where they'd like, Boost Lee embodies the power and control that Boost offers prepayment energy households. Boost features the UK's first truly smart prepayment platform, which removes the need for inconvenient trips to the shops to top-up a key or a card. Boost gives customers the choice of adding credit through a smartphone app linked to a smart meter or at the shops on a Smart card.
The Boost app allows PAYG customers to easily track energy usage, get notifications when their balance is running low and set up automatic top ups to make their lives easier and reduce energy expenses. Soft launched in September 2017, Boost is an evolution of OVO Energy's Smart PAYG+ platform.
"At Boost, we believe in energy that sets people free. We've created a dedicated energy brand that delivers greater control and a better experience for prepay customers. From instant top-ups to alerts when supply runs low, Boost gives people complete control of their pay-as-you-go energy," said Justin Cockerill, Boost MD. "Who better to introduce our new brand than a master of power and control? We hope that Boost Lee will motivate and inspire households who want to control their power."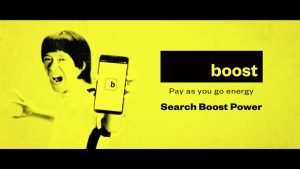 The Boost campaign, developed in close partnership with the Bruce Lee Estate, starts in February and aims to raise brand and product awareness amongst consumers. SNAP LDN have used Bruce Lee's likeness and language to create Boost Lee, the master of energy control and management. All work has been created in collaboration with the Bruce Lee Estate, with the licensing handled by Born Licensing.
Shannon Lee, Founder/Owner, Bruce Lee Enterprises, said: "When we learned that the Boost proposition was about controlling your energy and customising your experience, we felt the alignment with the Bruce Lee message and philosophy were really pretty parallel. We hope that everyone will recognise the lighthearted fun with which the campaign was created while at the same time hitting some pretty deep messaging points!"
SNAP LDN won the account following a competitive pitch process and are the lead strategic and creative agency. The integrated campaign is launching across TV, OOH, digital, social, content and BTL. Media planning and buying is handled by The Specialist Works, below-the-line communications by The SHARP Agency, and digital and social media by Merkle|Periscopix.
Louisa Tapper, Managing Partner at SNAP London, added: "This was one of those ideas that just worked on every level. What better way to launch a bold, disruptive brand focussed on helping people master their energy, than with the ultimate master of control – Boost Lee. We've had a huge amount of fun working with the team at Boost and the Bruce Lee Estate to create this campaign and character. We can't wait for the world to meet him too."
Source: SNAP LDN