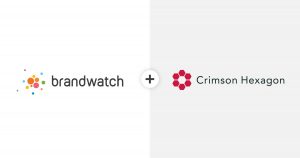 Brandwatch and Crimson Hexagon, two leaders in the social intelligence space, announce the signing of a merger agreement. This merger, expected to close in Q4, creates a c. $100 million annual recurring revenue business that will move forward as Brandwatch.
"In this digitally connected world, our vision is to transform how organisations understand their consumers through products that bring structure and meaning to the public voices of billions of people. This merger allows us to accelerate towards that vision and move beyond social listening to innovate at the cross section of brand, market and consumer intelligence," said Giles Palmer, Founder and CEO of Brandwatch.
"We believe that our AI capabilities are unmatched in this industry, and our many customer successes bear witness to the value that it has driven over the years," said Chris Bingham, Chief Technology Officer at Crimson Hexagon. "I am very excited to know that our 11 year investment in AI and Machine Learning is so valued by Brandwatch, and that it will be at the very core of our new integrated platform."
Work to integrate the products will begin immediately, although both products will continue to be supported and operate independently for an extended period. A new roadmap for the combined company will join Crimson Hexagon's artificial intelligence and historical data index with Brandwatch Analytics' data handling and flexible user interface, to create immense value for customers. Additionally, the company will add more data from marketing, customer behaviour, and market research sources to the platform to expand beyond social intelligence.
"Our clients tell us that they need a faster, richer understanding of their markets and consumers based on public and proprietary data they trust. They need global reach, world-class professional services and fast, intuitive products they can put in the hands of non-analysts as they become more data-driven. This merger creates the best platform to provide this value to clients. We're excited to take this to the next level," said Palmer.
All existing clients will continue to have access to the platforms they currently are using, as well as the industry's top rated customer success teams.
Source: Brandwatch