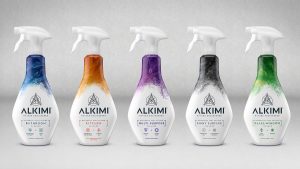 Cleaning products manufacturer, Challs International, has partnered with the London office of independent brand design agency, Bulletproof, to launch ALKIMI, an exciting new highly efficacious and non-toxic cleaning range, which is safe for the user and their environment.
Within the household cleaning category, consumers faced a no-win situation: choose powerful cleaning products that get the job done but contain harsh chemicals or go eco-friendly with products that ease your mind but take twice the effort. Nothing could offer unrivalled efficacy without the harmful chemical impact.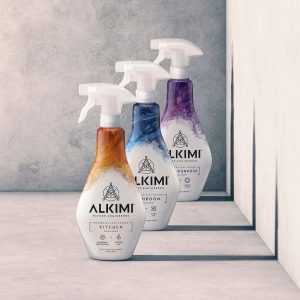 Bulletproof was briefed to create a new cutting-edge cleaning brand that would challenge the big chemical players with its cleaning power, while being kinder to the user and their environment.
"After a deep dive into the consumer and category, we created the 'Nature. Engineered.' brand world platform and named the brand ALKIMI, inspired by scientific transformation. Engineered for optimum performance, ALKIMI harnesses our most powerful force – nature – enhancing natural ingredients at a molecular level to create highly efficacious, advanced home cleaning products that work with nature, not against it. Our pack design reflects the science behind ALKIMI's power, with the brand symbol inspired by alchemist symbology, the synthesis of science and nature," commented Bulletproof.
"Dramatic surges of colour 'ALKIMI process' at the top of each pack hints at the scientific process inside and delivers clear varianting. Our new bottle structure is inspired by laboratory conical flasks – a beautiful and ownable structure implicitly connected to the brand world. The overall result is a stunning new cleaning brand that puts the safe but unstoppable power of engineered nature into consumers' hands. For a super clean home and a squeaky-clean conscience."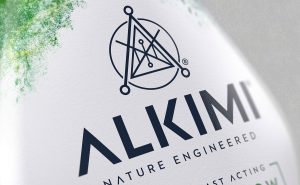 Stephanie Ward, Brand Manager at Challs International, said: "With an exciting new innovation to launch, Bulletproof were the natural (and powerful!) choice. ALKIMI has been brought to life with an intricate and sophisticated design that perfectly captures the science behind its efficacy, while creating all-important shelf standout in a highly competitive category. No longer will consumers have to choose between eco and effective – ALKIMI brings them together in a cleaning range that means business!"
ALKIMI is now available in Booths and Sainsbury's stores UK-wide and online at Ocado and Amazon.
Source: Bulletproof