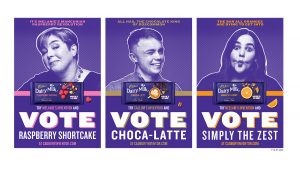 Chocolate fans everywhere have been given the chance to try three limited edition Cadbury Dairy Milk bars, created by the three finalists of the Cadbury Inventor competition.
Callum's Cadbury Dairy Milk CHOCA-LATTE, Neelam's Cadbury Dairy Milk SIMPLY THE ZEST, and Melanie's Cadbury Dairy Milk THE RASPBERRY SHORTCAKE will be filling supermarket shelves across the UK and Ireland with fans being able to vote for which one will be crowned the newest addition to the iconic Cadbury Dairy Milk range, alongside iconic bars including Caramel, Fruit & Nut and Whole Nut.
In 2018, Cadbury gave fans everywhere the chance to create their very own Cadbury Dairy Milk bar as part of the Inventor competition. Entrants were able to add up to three ingredients with the chance to name their bar and explain what inspired their creation before hitting send on their entry.
The three lucky finalists have now been on an epic journey to create their unique bars, travelling to the Cadbury Innovation Kitchen in Bournville, the home of Cadbury, where they worked with chocolate experts to experiment with their ingredients and make their creations a reality.
VCCP have worked with Cadbury to create some iconic purple posters to promote the competition, which put the Inventors front and center.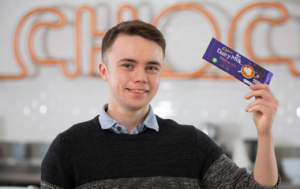 Guy Moore, Creative Director at VCCP added: " Having invented three delicious bars, it was an absolute no brainer to put our brilliant Cadbury Inventor finalists front and centre of our huge push for votes. Our celebration of these absolute legends and their chocolate bar ideas will hopefully keep the nation going madbury for Cadbury!"
Callum, 17 years old from Ireland has created Cadbury Dairy Milk CHOCA-LATTE off the back of his love for coffee and chocolate and dreams of setting up his own coffee business one day. The bar consists of a delicious mix of coffee cream and vanilla sandwiched in between the smooth taste of Cadbury Dairy Milk.
Callum said "I love the taste of coffee and have at least one or two cups a day – I just knew the chocolate and coffee combination would taste great together. It would be great to set up my own coffee business someday, I have so many ideas!"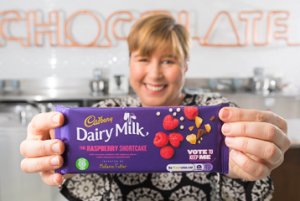 Melanie, 44 years old school teacher from Manchester, says she created her Cadbury Dairy Milk THE RASBERRY SHORTCAKE because she's always loved cooking and makes a lot of desserts and puddings. Melanie's bar combines the sharp taste of raspberries with individual pieces of white chocolate and the crunchy taste of shortcake, combined with delicious Cadbury Dairy Milk.
Melanie said "I actually cook a lot with the combination of chocolate and raspberries and I'm happiest in the kitchen baking and cooking for a lot of people; cooking is my stress relief. For the competition I wanted to create something special. Raspberries are one of my favourite fruits – this flavour with milk and white chocolate is a no brainer."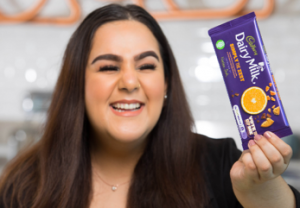 Neelam, 25 years old from Leeds, says she created Cadbury Dairy Milk SIMPLY THE ZEST because she has always liked orange flavoured chocolate with a crunchy texture. Neelam's bar gives an instant chocolate orange hit combined with hard caramel and biscuit.
Neelam said "I had to go with my gut instinct when deciding what ingredients to choose as there were so many options available. I saw the competition on my Snapchat and entered straight away. I've never won anything before so this was a massive shock.
Lyndsey Homer, Junior Brand Manager at Cadbury, says: "We couldn't be more excited to share these new delicious Cadbury Dairy Milk flavours with the nation. We've absolutely loved working with Callum, Melanie and Neelam to make their bars a reality and opening our doors to bring them into Cadbury. We can't wait to see which bar wins and really want everyone to go out and vote for their favourite!"
The three limited edition 122.5g bars will then be available for chocolate lovers at all major retailers across the UK, (RRP: £1.49) and online here. The winner will be announced in September.
Source: VCCP