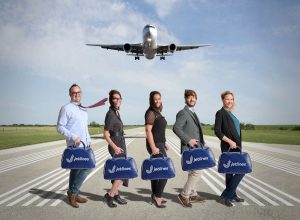 Canada Jetlines Ltd. announced that it has selected two-time Agency of the Year winner, Cossette, as its marketing agency of record. Known for its bold, creative-first approach, Cossette will be charged with developing all of the Company's marketing and communication initiatives.
Cossette's expertise in strategy and branding, traditional and digital communications, design, CRM, and performance media will be invaluable in creating a brand Canadians can rally around. Cossette's ability to understand Jetlines' unique market, combined with its speciality in disruptive thinking and culture-shifting content creation, will help realize Jetlines' mission to be Canada's ultra-low-cost airline of choice.
With offices nationwide, Cossette's thorough understanding of Canadian culture will help Jetlines attract a diverse array of cost-conscious travellers.
Cossette will work collaboratively with Jetlines to create an impactful campaign for Jetlines' initial launch and provide ongoing insight and input for future marketing initiatives.
"Jetlines is not meant to be just another airline," stated CEO, Javier Suarez. "We're here to challenge the way things have been done in the past and introduce Canadians to a new way of flying. Canadians have been overpaying for airfares for far too long but next summer 2019, things are going to change. We're beyond excited to have Cossette join us in our rebellion against high airfares!"
"It's rare—and exciting—to partner with a client who permits you the opportunity to truly test the boundaries of customer experience," noted Nadine Cole, Senior Vice President and General Manager of Cossette. "Javier is pushing us to imagine how the airline industry can be completely reinvented. A natural strategic thinker—he doesn't stop the process, he builds on it and makes it better."
Source: Cossette