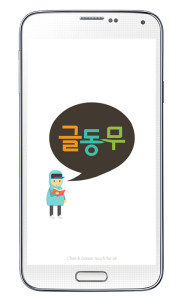 Cheil Worldwide launched a new app called "Univoca: South Korean-North Korean Translator" to help North Korean defectors easily communicate in South Korea. The app automatically translates North and South Korean languages.
After more than 60 years of separation, different forms of the Korean language have evolved in the two Koreas, and the South incorporates a large number of words from English due to the American influence. For example, South Koreans simply use the English term "penalty kick" when playing football, while their counterparts in the North say a word meaning "11-meter punishment" in translation.
According to language experts, the two Koreas' vocabulary are 30 – 40% different in daily life, while more than 60% different in business or professional settings, presenting North Korean defectors a big challenge when they try to adjust to their new life in the South. According to a 2012 study by the National Institute of the Korean Language, North Korean defectors understand only half of the Korean language used in the South. In particular for the North Korean teen defectors, who are more sensitive to cultural differences, the language issue is considered a first priority to solve when settling down in South Korea.
In order to tackle such communication issues, Cheil Worldwide partnered with DreamTouchForAll, a non-profit education organization, and Community Chest of Korea, a charitable organization, to develop the app "Univoca: South Korean-North Korean Translator". Working like a digital dictionary, the app includes 3,600 words used in Korean language textbooks for high school students. In addition to meanings of South and North Korean words, example sentences are also shown. When user scans an unfamiliar word with smart phone camera, the translated text appears. Users can also manually input text for translation. They can even request what words should be added in the app for future update.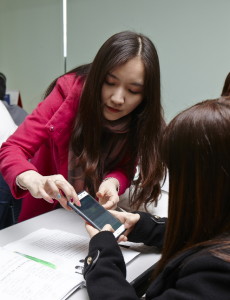 What makes the app even more meaningful is that North Korean defectors themselves participated in the development process. University students, originally from North Korea, chose difficult-for-North-Koreans vocabulary from high school textbooks and did basic translation, based on their own experience. Then an advisory committee composed of teachers and doctors from North Korea worked on professional level proof reading. Cheil's art directors created images for words which are not easy to verbally explain.
Commenting on the app, one North Korean teen defector who wanted to stay anonymous said, "there are so many words difficult to understand – not just text books but news articles, street signs, etc. I cannot ask for others' help every time I run into unfamiliar terms. The app provides easy and fast translation so is very useful"
The app currently features vocabulary from Korean language text books, and will continue to expand its database to include vocabulary from science and social studies text books, as well as news articles and everyday lives. It also encourages users to submit vocabulary that they want to include in the app.
The primary purpose of the app is to help North Korean student defectors communicate and study easily in the South. According to the Ministry of Education, the number of North Korean student defectors is on a continuous rise. In 2008, there were 966; the number jumped to 2,183 in 2014 (when combined elementary school, junior high school and high school students altogether). And in the longer term, the app aims to support all the North Korean defectors in general.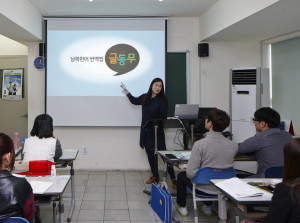 A doctor from North Korea (who also wants anonymity) currently teaches at the Institute for Unification Education at the Ministry of Unification and has participated in the app development process. He said, "the language gap between the two Koreans is as deep as the history of separation, challenging young students from the North to fit into the South Korean society. This smartphone app is going to help those in education as students will be able to understand the language by themselves."
Jae-young Choi, the head of Good Company Solution Center (Cheil's do-good division), added "The app introduces a concept of 'invisible text book', helping North Korean and South Korean students to understand each other's language. We will continue to update the vocabulary, while providing career mentoring and other forms of volunteering for North Korean defectors."