Football has a long history of uniting people both on and off the pitch and whilst many celebrated the Lionesses UEFA Euro win, conversations surrounding gender equality increased and were brought to the fore. Christian Aid picked up on this changing sentiment and has planned a reactive campaign to highlight gender injustice across the world.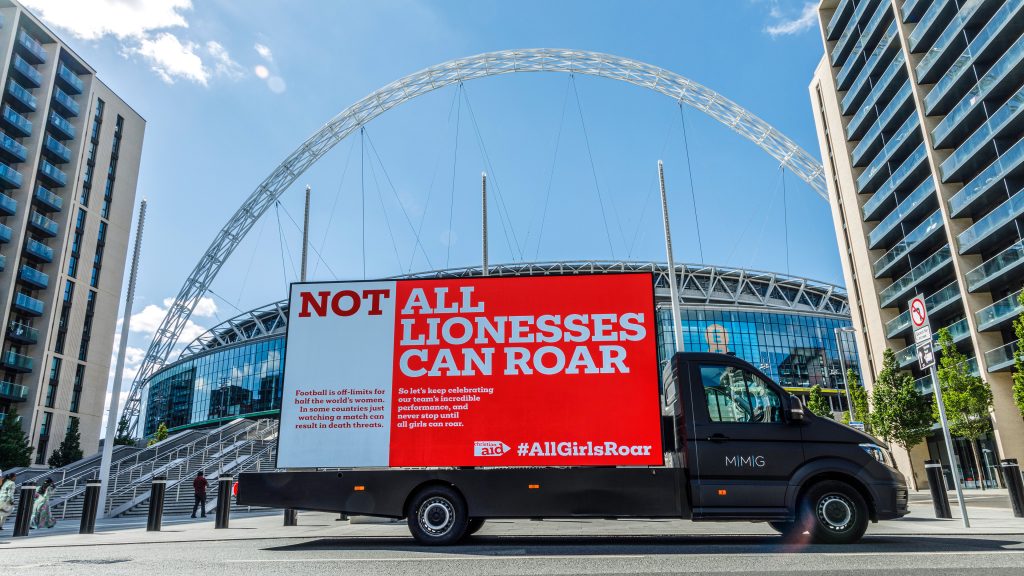 So this weekend, to coincide with the Premier League season kick off Christian Aid launched a social, Out-of-Home, and press campaign to build awareness of how half the women in the world are still not even allowed to play football, and in some cases face persecution for simply turning up to watch a game.
The campaign was created by creative agency Impero and Media was planned by Goodstuff. The campaign is part of the wider creative platform United by Hope.
With the furore of the weekend's win dying down, the charity saw an opportunity to highlight the plight of women and girls around the world and launch a campaign that highlights Christian Aid's work on gender justice.
The campaign uses contextual targeting of this weekend's key sporting events to land a message of women's equality, gender justice and hope.
Press and social will be used to maximise topical moments and invite discussion and debate, whilst AdVans in contextual locations will be used to target consumers and the media alike.
Christian Aid is calling on brands and supporters who followed the Euro's to get behind the campaign and help challenge the power imbalances that exist across the world. The campaign will be hijacking key locations across the Premiership reaching hundreds of thousands of football fans just as the focus of football switches back to the men's game.
Gender justice is at the heart of Christian Aid's work. It aims to raise awareness of gender justice and intersecting inequalities among supporters, inspiring and resourcing them so they can engage in meaningful and lasting action to promote gender justice.
Last weekend's events showed us the power of hope and determination, and yet it wasn't long ago when all-time leading goal scorer Lioness Ellen White was banned as a nine year old from playing in her local league for being a girl.
In 1921 the FA announced that "The game of football is quite unsuitable for females" and banned women from playing on football league grounds in England for 50 years.
And recently, the deputy head of Afghanistan's cultural commission proclaimed, "women's sport was neither appropriate nor necessary."
And yet there is hope everywhere, only this year women were allowed to attend an Iran-Iraq match in Tehran stadium for the first time in three years. It's a small victory but change is happening.
Chris Tyas, Chief Strategy Officer at Impero, said: "The campaign is designed to tap into the injustice of gender inequalities just as the focus returns to mens football. A lot of brands left the conversation at a big "well done" to the Lionesses. And that is exactly when Christian Aid is picking up the baton. We are asking people to believe in hope that change can happen."
Kimberley Ferguson, Brand Manager, Christian Aid added: "Like so many others I was surprised to learn that women were banned from playing Football in England for 50 years. The Lionesses show what can be achieved when women are given access to an even playing field. Every girl should have the ability to play if they want to, regardless of where they are born."
Genevieve Tompkins, Managing Partner, Goodstuff concluded: "We are delighted to launch this important reactive campaign for Christian Aid. Our collaborative cross-team working and openness allowed for quick decision-making, balancing what's possible with what's most effective for the brand. We hope this campaign serves to shine a light on the Global South and raises Christian Aid's profile and the work they do in bringing justice to communities across the globe."
Source: Christian Aid