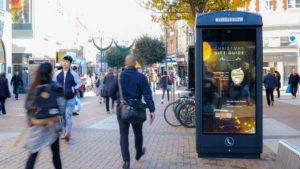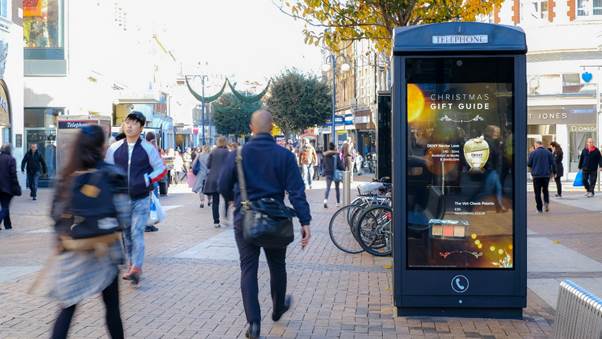 Clear Channel has unveiled the first digital out of home (DOOH) Christmas Gift Guide, featuring gift ideas from a range of brands to inspire shoppers in the run up to the festive season.
The campaign showcases products from six advertisers including Coty, Estee Lauder, NARS, Philips, Very and ViFit, and is currently running nationwide across 900 screens from Adshel Live's digital street furniture network located in premium locations targeting shoppers on busy high streets and roadsides.
The first of its kind campaign was inspired by traditional printed Christmas gift guides and the concept has been adapted to utilise DOOH's creativity and flexibility. Each 10 second spot includes all six brands in creative reminiscent of the traditional gift guide layout, and features subtle animation to drive cut-through and engage consumers. The campaign will be live during shopping hours and will be played out 2 million times during its two week run, reaching an estimated audience of 6.2 million people.
Chris Pelekanou, Commercial Director, Clear Channel, said: "The beauty of DOOH is both its flexibility and creative capabilities. The DOOH Christmas Gift Guide is a unique and creative solution developed to enable advertisers to put their brands at the forefront of peoples' minds in the run up to Christmas. Its play on the traditional gift catalogue concept is a fun and effective way to inspire shoppers, and will reach large audiences across busy high streets nationwide through Adshel Live's network of digital screens."
Commenting on the campaign, Courtney Stewart, Communications Planning Manager, Vizeum, said: "The Clear Channel team came to us with a creative concept that would allow us to reach and target Christmas shoppers while they are in the shopping mindset. Out of home is a powerful tool for building awareness and driving consideration, and with the added flexibility that DOOH gives to schedule plays during peak shopping hours, it is a really original and festive way for products to be showcased to a gifting audience."
Lily Mark, Account Manager, Vizeum added: "Clear Channel are always looking to push the boundaries with creativity and innovation. This is a perfect example of how they build in flexibility for their clients and a great opportunity for Shop Direct to showcase their product range on the high street in an OOH gift guide format."
Source: Clear Channel