Volvic Touch of Fruit is launching a dedicated new TV ad for the first time since 2013 as part of a £1.5m through the line campaign designed to appeal to a young, creative audience.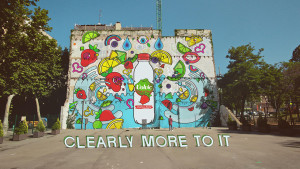 The ad, created by RKCR/Y&R London, features a street artist whose work comes to life in an explosion of fruit graphics. The colourful film celebrates Volvic the great taste of Touch of Fruit as well as the brand's delicious new Sparkling range. The illustrations were provided by Brighton-based illustrator Jamie Cullen and animation from London based animation company Nomint.
The ad will run on TVC and Video on Demand from July 6, and will be supported by disruptive in-store activations and national sampling. The campaign will also supported through digital channels leveraging the TV copy and music track to drive further engagement. It comes as Volvic rolls out its fourth Volvic Touch of Fruit Sparkling flavour; Apple and Raspberry.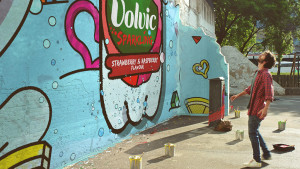 Tom Hickton, Volvic Senior Brand Manager said: "Clearly More To It brings to life the unexpected taste sensation of Volvic Touch of Fruit whilst celebrating our new Sparkling variant. The creative is designed to celebrate the fact that there's much more to Volvic Touch of Fruit than initially meets the eye. We believe this distinctive creative style will resonate with our millennial target audience."
Paul Angus, creative director from RKCR/Y&R said: "We set out to make a huge splash for Volvic Touch of Fruit. Thanks to creative collaborations with Jamie Cullen and Eric Lerner, we've created a large scale street mural which not only looks cool but delivers a clear product story."