CMW's latest campaign for Nivea Men is to relaunch the 'Originals' range whilst leveraging the brand's position as official Male groom supplier of FA England Football and Dutch Eredivsie teams.
The digital campaign focusses on enabling men to experience that 'Man of the Match' feeling. It launches with a video featuring unsuspecting men who were secretly filmed while receiving facial treatments in a Nivea Men branded marquee in a shopping centre.
However, during the treatment the shopping centre is transformed into a football stadium complete with an adoring crowd of fans. Once the treatment is finished, the man steps out to face the crowd cheering his name, before being presented with a Man of the Match bottle of Champagne and Nivea goodies.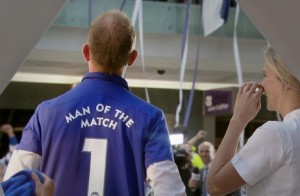 As part of an integrated 360 campaign with POS and TV, the video will also be seeded through display advertising and homepage takeovers across a number of major online platforms including You Tube, Sky Sports, Guardian football and Telegraph Football.
CMW will also handle owned media social amplification to drive consumers to the brand's social media properties; this includes a Facebook promotion offering the opportunity to win Man of the Match tailored suits and Nivea Men Originals products.
The campaign targets 25 to 45-year-old men and has been built from Nivea Men research that shows male consumers have to feel emotionally engaged to consider purchasing male-skincare products.
Liz Wilson, CEO, CMW said: "Our experience shows that the most effective way to engage our audience on the subject of skincare is through rich emotive content spread across a range of digital channels.  In Man of the Match we're bringing Nivea Men to a new audience and challenging their perceptions of having a daily skincare routine."
Tim Maas, Marketing Manager, Nivea Men Northern Europe, Beiersdorf said: "Skincare remains a topic that men are still reluctant to engage with however we know that by tying the brand with something as emotional as football, we can raise awareness of the benefits of the Nivea Men range. Man of the Match does just that and we're confident this execution will help build brand engagement."
The campaign launches officially Monday 10th June.