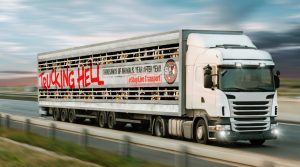 Compassion in World Farming, a leading animal welfare charity, has revealed a hard-hitting new stunt which aims to highlight the long journeys endured by live farm animals, ahead of Stop Live Transport Day on Friday 14th June. The push was developed in partnership with creative agency ELVIS.
Compassion in World Farming is driving a truck from Edinburgh to Ramsgate to represent the long journey that unweaned calves, some just a few weeks old, make as they are transported to be shipped off to the continent for slaughter or fattening. Wrapped in livery, the truck looks as though it is full of live calves. It is emblazoned with the line 'Trucking hell. Thousands of animals. Year after year', and the campaign hashtag #StopLiveTransport.
The stunt is part of Stop Live Transport: International Awareness Day, an annual day of action that takes place globally to raise awareness of the millions of live farm animals who are transported thousands of miles every year. The global movement aims to stop the long-distance transport of animals.
ELVIS has worked on a number of award-winning campaigns for Compassion in World Farming over the years, including "The World's First Really Live Feed", and "Standing Room Only", which won the national category in the CBS Outdoor Big Bus Challenge.
Sophie Peutrill, Campaigns Officer, Compassion in World Farming UK, said: "Every year, thousands of British farm animals face long and gruelling journeys overseas for fattening or slaughter. This powerful stunt highlights the unimaginable suffering these animals face and we hope it will inspire more people to stand up against this cruel and unnecessary trade."
Neale Horrigan, Creative Managing Partner, ELVIS, commented: "We have worked with Compassion in World Farming for many years now, making some incredibly successful, award-winning work. It's amazing to have the opportunity to partner with them again on this project and to create something impactful and disruptive for a great cause."
Source: ELVIS