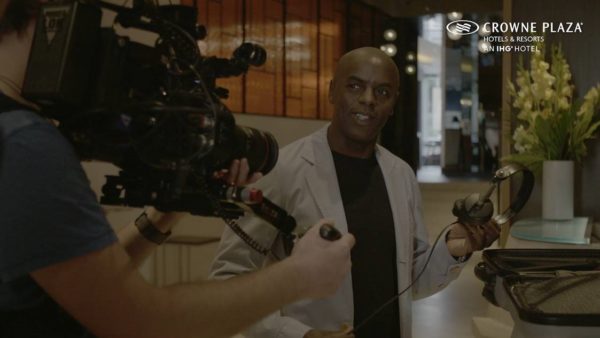 Crowne Plaza® Hotel & Resorts and media technology company Oath today announce a collaboration to create 'Downtime', the ultimate hub for the modern business traveller. The business lifestyle channel launches today on HuffPost UK and hosts a mix of promotional features and editorial content, including an original scripted video series titled 'Downtime', created with BBC comedy writers and featuring a host of famous faces.
The partnership, forged by Mindshare and J. Walter Thompson, explores the relationship between downtime and work when travelling for business. Crowne Plaza combined guest insights with quantitative traveller research through Hill + Knowlton Strategies to further understand the needs of the business traveller of today. With a clear indication of an increasing desire to focus on 'project me' whilst away for business, the campaign with Oath has been developed to creatively explore how business travellers can make the most out of their business trips, on both a professional and a personal level.
The mockumentary series 'Downtime' demonstrates Crowne Plaza's understanding of the modern business traveller and the world that they operate in. The series, scripted by award-winning comedy writers Matt Morgan (Very Important People, Russell Brand's Ponderland) and Sarah Morgan (Not Going Out, The Tracy Ullman Show), will explore the frustrations of not having time to yourself when you travel for business. Directed by Tom McKay (Drunk History UK, Ten O'Clock Live); it will feature leading actors including Hugh Dennis. Each episode will be focused on passion points and research insights around the reality of what it's like to travel for business.
In addition to the comedy series, the platform will feature content with presenters Ben Shires, Zoe Hardman and Anita Rani plus renowned DJ Trevor Nelson, each sharing tips and inspiration around making the most of downtime whilst away for work.
Mike Greenup, Vice President Brand Management, for Crowne Plaza said, "This campaign is about showing people that Crowne Plaza is 'all business, mostly'. We know that it's not all about work when you're on a business trip and this campaign with Oath brings that thinking to life through creative, engaging and humorous content. Plus, Oath offers us a great platform to share that message with our target audience."
Both video series were created and produced by Oath's in-house video team that specialises in creating content in both traditional and emerging formats. One episode of each series will be released weekly from 9th October, encouraging people to visit the channel and 'max their downtime' via carefully curated editorial content, commissioned content, blogs and a social wall on the HuffPost 'Downtime' lifestyle channel.
 Nigel Clarkson, Managing Director at Oath UK said, "By teaming up with award-winning comedy writers and respected influencers, our video team is creating world-class broadcast-level content that is built on insights. In doing so, we are able to engage with over 43 million users a month on not only Oath's media properties but also extend the reach further to the audiences we want to connect with on our third party publisher partners."
Source:Â Oath