Indians take great pride in their traditions. Their culture and values are what define them, but rarely do they ever get the opportunity to use a sacred tradition to do so much more.
Rice brandIndia Gate, together with The Classic Partnership, part of the VMLY&R Group, believe that rice, which is used to shower blessings during every wedding ceremony, can serve a larger purpose.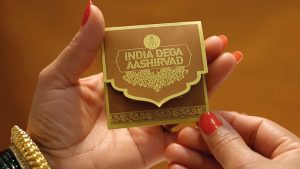 So, the agency created #IndiaDegaAashirvad, a unique initiative that upholds India's sacred tradition of showering rice, while giving newlywed couples the option to be prudent with its use, thereby helping millions of less fortunate people.
Anoop Gupta, Joint Managing Director, KRBL India Ltd commented: "The campaign acknowledged the significance of tradition within Indian culture, while empowering society to make a positive and effective change. It conveyed the issue of how much rice is traditionally showered at weddings, then gave newly-weds the choice of using less, the differential then being used to benefit the under-privileged."
Rahul Nagpal, CEO of The Classic Partnership added: "This was a great example of a highly creative idea that raised our client's profile, influenced consumer behaviour, and also proved to be a very worthy cause that stands to benefit many people. We were very pleased to work with India Gate as responsible partners to effect this positive change."
Source: VMLY&R