Dayuse.com, a premier solution for daytime hotel reservations worldwide, is launching its new brand campaign, the "Dayuse Effect".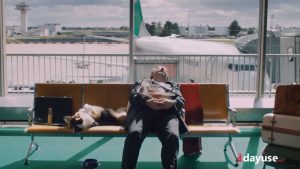 Designed, produced, and directed by communications agency Orès Group, the same agency responsible for the brand's first TV campaign in 2016, this new appearance will focus on benefits for consumers and on the advantages of daytime hotel use.
Avoiding clichés, Dayuse.com will share core values of modernity, simplicity, and quality via films that treat quirky situations with humour and elegance.
Subtly built on an offbeat tone, the three films depict several different users, each with good reasons for wanting to book a hotel room during the day.
The Dayuse Effect is illustrated through each film via a two-part format:
#1 a close portrait of different users (travellers for business, leisure, and a couple) at odds with uncomfortable situations;
#2 reveal: a projection of the same characters enjoying the Dayuse.com Effect.
The "Dayuse.com Effect" identity campaign will be distributed through digital video devices, including the Teads network on all international Business, Lifestyle, and general media throughout France, Germany, the United Kingdom, the United States, and Australia.
Source: Dayuse.com