Direct Line for Business and Saatchi & Saatchi London announced the launch of a major new ATL campaign, "keeping up with your world." It features a dedicated creative for the small and micro business audience, highlighting insurance support in a changing and unpredictable business world. The campaign launches on television on Friday 20th July and is supported with radio, social, press and PR.
The new 30" advert follows the exhilarating journey of Jenna, a dynamic female business owner in her 30s, rising from self-employment to growing and running her own business. The fast-paced scene changes and cuts show how much a small business owner must consider, such as hiring staff, chasing down clients and moving from working at a kitchen table to a busy office.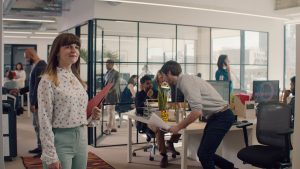 The narration in the advert is provided by the unmistakable voice of stand-up comedian and television panellist Milton Jones, who viewers will recognise from such shows as Mock the Week, Michael McIntyre's Comedy Roadshow and Live at the Apollo.
The advertisement lays down a bold challenge by asking, "Can your business insurance do that?" emphasising how Direct Line continues to disrupt the insurance marketplace, making it ever easier for small companies to buy direct with confidence.
The "Keeping up with your world" creative remains recognisably Direct Line, taking an empathetic, impactful look at what it feels like to run a small business and how this audience needs insurance that is designed to keep up.
Claire Sadler, Marketing Director of Direct Line for Business said "We know from our research that change is constant for small businesses, yet many businesses don't know if they are covered if there are changes to their business, like staff, turnover or stock. Customers want reassurance that they have an insurance policy that can flex, change or grow with them. Direct Line is inherently perceived as a consumer brand, despite having over 450,000 small business policy holders, so with the new creative we wanted to show we understand the joys and challenges of running a small business by bringing emotion and humour into our business to business communication. And in doing so, humanise business insurance and highlight that being a small business owner is personal experience and people need a personalised insurance product, not an off the shelf package."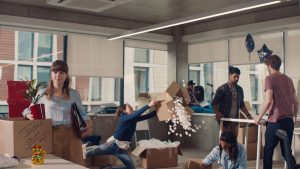 Kate Stanners Chairwoman and Global Chief Creative Officer, Saatchi & Saatchi: "Growing a business in the current climate is incredibly tough and to succeed you have to work really hard. It was important to show in this film just how unpredictable life at the helm of a business can be. You take a huge leap of faith and then just do whatever you can to adapt to a torrent of challenges, surprises and setbacks, while also trying to enjoy the ride. We wanted to create a montage that conveyed this dynamic journey in a visceral and playful way, while showcasing how invaluable constant support from Direct Line for Business can be."
The campaign supports the launch of a new end-to-end business insurance solution that enables over 500 trades to buy insurance directly with confidence. The online tool dramatically simplifies the way contractors and small businesses in the advertising and marketing industries purchase cover.
It provides an intuitive and responsive sales journey, enabling customers to create a policy that is totally unique to their business, meaning that policyholders never pay for insurance they don't need. Once in place, customers can make as many changes to their policy as they wish without incurring any mid-term amendment fees.
Source:Â Saatchi & Saatchi LondonÂ