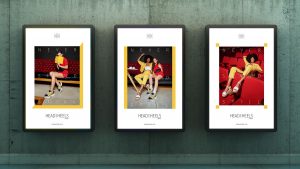 The Dune Group's new footwear and accessories brand, Head over Heels has launched its first ever campaign created with under 30s specialist creative agency ZAK.
The brand bridges the gap between youth oriented fast fashion players and more established high street retailers, targeting an audience of dynamic, ambitious, style conscious 20-30 year old women who are influenced by catwalk and luxury brands.
The #NeverStandStill campaign features six scenarios that represent the target consumer and the wide variety of shoes they wear for different occasions. Whether commuting to work, meeting a friend for brunch or partying in a country pile, the campaign shows the zest for life and vitality young women on a mission possess.
Vivid lifestyle imagery is inspired by the energy of the audience capturing a refreshing sophistication whilst retaining a youthful playfulness in a busy direct to consumer category. The imagery is framed by generous use of white space and pops of impactful colour and features the Head over Heels monogram.
The integrated creative will launch in the UK across outdoor, print and digital with social channels playing a leading role. Head over Heels products are available through a dedicated website and through carefully selected retail partners.
"ZAK have been fantastic partners for us and to see both the website and campaign go live after a lot of hard work from both teams is incredibly exciting. ZAK really understood where and how we wanted to position the brand to achieve cut through in this market and were instrumental in bringing it to life," said Rob Silsbury, eCommerce & Marketing Director, The Dune Group.
"We really focussed on capturing imagery that elevates Head over Heels above hyper-sexualised fast-fash advertising but retains a vivid, impactful, lifestyle driven visual style. Bringing the campaign to life consistently across outdoor and digital has been key to positioning the brand as a more discerning choice," added Matthew Bennett, CCO, ZAK.
Source: ZAK