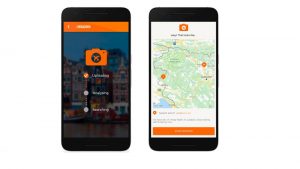 easyJet, Europe's leading airline, will launch its successful Look&Book image search app feature across Android devices. The launch follows the app feature release on iOS in October 2018 which has seen over 28,000 photos matched to destinations to date.
With so many travellers now getting their travel inspiration from their Instagram feeds, easyJet wanted to make it as easy as possible to jump straight from inspiration to booking with only a few taps.
A travel industry first, easyJet's Look&Book app is simple and easy to use. Find a photo of a destination that captures your imagination, share it with the easyJet app and you can be there. Using image recognition technology to find the nearest airport to the place in the photo, and your location to find your closest departure airport, the app serves up relevant flights in an instant.
With easyJet offering over 1000 routes throughout Europe, you can now book that Instagram inspired trip, in just a few taps. Look&Book not only recognises the destination, but tells the user the nearest airport and pre-populates the booking form with those details.
The Android version of the app will launch in the UK, France, Italy, Germany and Switzerland and is available in Italian, German, English and French languages.
Created by creative agency VCCP in partnership with Travelport Digital, the launch onto Android is supported by an Instagram campaign.
Daniel Young, Head of Digital Experience at easyJet said: "We are so excited that the Look&Book app is now available for Android users as well as iOS across Europe. Now everyone has the chance to further explore Europe with ease, with a tool which opens up new destinations and adventures for all."
David Masterman, Creative Director at VCCP added: "We've all seen places on Instagram and wished we could just be there. The beauty of Look&Book is how easily it makes those daydreams become reality."
Source: VCCP