Worldwide social network ad spending is accelerating even faster than expected, according to a new forecast from eMarketer. Global social network ad spending will reach $25.14 billion in 2015, higher than the $23.68 forecast in April. However, the pace at which the major players are growing differs greatly.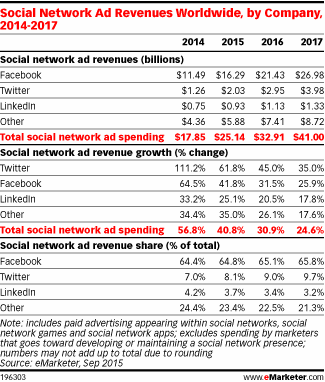 The growth in social network ad spending can largely be attributed to a rapid increase in Facebook's ad revenue. eMarketer expects Facebook to capture $16.29 billion in ad revenues worldwide, a jump of 41.8% over 2014. This year, Facebook will take 64.8% of total social network ad spending worldwide.
A portion of Facebook's explosive growth will continue to be driven by Instagram. The mobile picture-sharing app will take in $600 million worldwide this year, accounting for 5% of Facebook's worldwide mobile ad revenue this year. In 2016, eMarketer expects Instagram to make $1.48 billion in worldwide ad revenues, growing 149% over 2015.
With this forecast, eMarketer has adjusted Twitter's worldwide growth rate down since April. Twitter is now expected to grow ad revenues 61.8% this year, taking in $2.03 billion, or 8.1% of total social network ad spending worldwide. In April, eMarketer predicted Twitter's growth would reach 66.9% this year.
"Twitter's slowing user growth is impacting its ad business," said eMarketer principal analyst Debra Aho Williamson. "Twitter has improved its ad targeting capabilities, and it still has a lock on real-time conversation. However, advertisers want to reach a mass audience and that's harder to do on Twitter than on Facebook."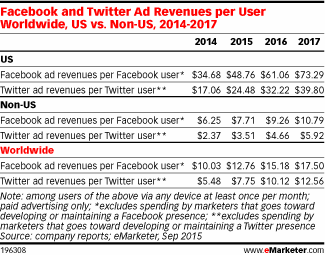 As Facebook continues to grow its user base and capture more revenue, eMarketer has adjusted its ad revenue per user forecast upward. Facebook's ad revenue per user will reach $48.76 this year in the US, higher than the $43.43 forecast in April. Worldwide, Facebook will capture $12.76 per user this year. By 2016, eMarketer expects Facebook to take in $15.18 per user worldwide, and $61.06 per user in the US.
Meanwhile, Twitter will capture $24.48 per US user in 2015, adjusted downward from April estimates. Worldwide, Twitter will capture $7.75 per user in 2015. By 2016, eMarketer forecasts Twitter to capture $10.12 per user worldwide and $32.22 per user in the US.