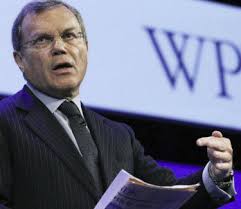 The feud between Martin Sorrell and his former employers is set to deepen after the ousted boss of WPP won the battle to acquire Dutch-based digital production company MediaMonks.
Sorrell has reportedly secured a €300 million deal, holding off rival bids from WPP and Accenture Interactive. The acquisition will rile WPP and create further animosity between the parties.
Sorrell, quoted in several media outlets, said: "This represents a significant step in building a new age, new era, digital agency platform for clients.
"MediaMonks' roots are totally in new media, and data, content and technology. Our next moves will be to build this platform further and to add meaningful data analytics and digital media buying. The company will be a unitary one with MediaMonks as its core."
Sorrell has taken the title of "senior monk".
MediaMonks founder and chief operating officer, Wesley ter Haar, said: "With this merger we're adding the firepower to build out our consolidated offering across creative, data, media and technology to best serve and service our clients.
"It's a great statement that MediaMonks is the premium platform upon which Sir Martin Sorrell's new business is founded. That to me is also a true testament to the quality of our team and talent."
WPP last week accused its former boss of unlawfully trying to acquire the agency using confidential company information. It allegedly called in lawyers after Sorrell's new company, S4 Capital, announced its intention to bid for MediaMonks, a company he encountered during his tenure of WPP.
It is thought Sorrell's success in capturing the business could jeopardise his long-term share award, valued at around US$41m.
Founded in Holland in 2001, MediaMonks has offices in Los Angeles, New York, Singapore, Shanghai, Stockholm, Dubai and Sao Paulo.
MediaMonks lists Audi, Mercedes-Benz and Lego among its clients and generated €20 million in earnings last financial year.
S4 Capital said in a statement to the stock market: "The objective behind the merger is to provide clients with digital services, which are agile, efficient, and of premium creative quality.
"The merger represents the first move by S4 Capital to create a new era, new media solution embracing data, content and technology, which meets client needs in an always-on environment."
Sorrell has rejected suggestions S4 capital would compete with WPP.
He told Cannes last month his new company was a "peanut" compared to the power wielded by WPP, adding provocatively: "It does occur to me that some people have peanut allergies."
Source: Mumbrella Asia