To coincide with International Epilepsy Day on 26 March 2019, the Fondation FranÇaise pour la Recherche sur 'l'Épilepsie (FFRE), which supports research into epilepsy in all its forms, decided to convey their message in an unexpected and unique way.
The Serviceplan France 'Cash Épilepsie' campaign aims to highlight the everyday experiences of people with epilepsy, and launch an appeal for donations.
Epilepsy is a neurological disease that affects more than 600,000 patients in France and three million people including caregivers, yet there is little public awareness of the condition within the general public.
The Fondation FranÇaise pour la Recherche sur 'l'Épilepsie (FFRE) opened a fake pop up shop in Paris for three days, selling items which had belonged to people with Epilepsy. To illustrate the everyday reality of this little-understood condition, the boutique pretended to sell second-hand "cut price" objects.
More than forty curious shoppers were drawn into the store, surprised to discover that the objects had all been broken or damaged by their previous owners during an epileptic seizure. The potential buyers then learnt the troubling stories behind the objects, such as a coffee table that had been broken when someone had fallen during a seizure and injured herself.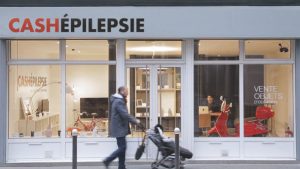 The salesperson was then able to raise the "customers" awareness about epilepsy, and explain that due to indifference or stigma about epilepsy, and a lack of funding and donations, they had to use a shocking ploy so that a store like that would never exist in reality.
The campaign was designed to highlight the condition of Epilepsy and make it a healthcare priority. The customers became the stars of an original video filmed using a hidden camera, which became the Foundation's new online campaign: "Cash Epilepsie. Broken lives at cut down prices."
Epileptic seizures most often take the form of unpredictable absences and bouts of unconsciousness that lead to falls. Depending on where they happen, these falls may have minor or serious consequences.
So when you have epilepsy, the most ordinary living environments and the most ordinary everyday objects can be potentially dangerous. And even for patients whose treatment is under control, the fear of seizure is constant. They are afraid of dangers caused by the seizures and of how other people view the disease.
Source: Serviceplan Group