London-based creative studio FIELD, released a new art series that visualises the invisible technologies that will shape our future.
AI algorithms are the invisible force that increasingly define aspects of our lives; powering everything from voice recognition to self-driving cars and the new ways of finance. As individuals and as a society, we need new visual metaphors to help us decide how much influence we want to give to these intangible systems – FIELD specialises in making them visible.
Last summer, the creative studio started an extensive research project exploring the most relevant smart technologies in code-based illustrations. From an in-depth study of their logic and code, and with a new visual language, they created a series of illustrations that reveal the complexity and architecture of these technologies.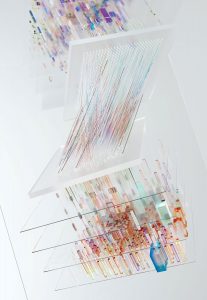 The first five of these artworks, created exclusively for WIRED magazine, feature in WIRED World 2018 issue, which focuses on the technological advances that will have the greatest impact in the upcoming year.
The illustrations and investigations featured in WIRED's issue are part of a more extensive and ongoing research project by FIELD called 'System Aesthetics'. It visualises specific AI technologies to help us understand what may occur within these systems.
These include voice assistance, face hacking, generative adversarial networks, autonomous driving, and digital currencies.
Exploring the nature of AI, 'System Aesthetics' expands on the WIRED-featured illustrations with custom-built animations that will launch on FIELD's website.
Marcus Wendt, Creative Director and Partner at FIELD, comments: "Increasingly, AI affects all aspects of our world, yet it remains one of the least understood subjects. They have such a vast influence on our behaviour, our communication, our existence. As ever-more complex data systems are driving our lives, our focus as designers and artists is to create new metaphors that help people, brands and institutions talk about these abstract and intangible things. At FIELD, collaborations with brands in automotive, technology, engineering and entertainment have kicked off a fascination with AI that we find crucial to investigate and contribute to as artists and designers."
Source: FIELD