The Times of India launches an engaging brand campaign for TOI's metro supplements (TIMS) esp. Bombay Times, Delhi Times, Gurgaon Times, Chennai Times, Bangalore Times and Calcutta Times titled 'Flirt with your City'. The campaign aims to communicate its strengthened content and reinforce its positioning as the one-stop-destination for all news and gossip of city's bustling social life and everything related to city's popular (pop) culture.
Over last few months, the brand has amplified its hyperlocal news coverage, youthful visual narratives, impactful content pointers and has brought in more exhaustive coverage across the content pillars of cinema, celebrities, food, fitness, fashion, campus, relationships, music related topics. Conceptualised by J. Walter Thompson India, the brand campaign is set to communicate the spicier, buzzier, trendier content proposition to its readers.
The insight for this campaign comes from a simple observation- we are in a relationship with the city we choose to live in; sustained by many shared interests, shared progress and shared quality of life. But, over time city-dwellers get happy in their cocoons and self-imposed geographic confines, that inhibit their enjoyment of the city they live in. We resign to tried and tested outlets of entertainment, that restricts our exploration of the city's pop-culture.
It is time to re-kindle this romance with the city by updating our readers about the emerging daily hub for all that city-buzz, from waterholes to hunger zones, for party animals and artists and activists and everything that makes your city your city. And, because every relationship needs thrill to thrive and shared values to sustain, TOI's metro supplements (TIMS) urge you to 'Flirt with your city'.
A city is not all about the chaos, hustle-bustle. It's about discovering unknown facets, dive deeper into its culture, food, rituals, places, conversations and more. The films are the quirky re-telling of each city. What is it that makes one so uniquely different from the other?  This is a story of pride, idiosyncrasies and how it is expressed and told through the campaign #FlirtWithYourCity. The ambition for this campaign is to create a dynamic anthem for each city driven by its unique pop-culture with the TOI's Metro Supplements (TIMS) at the centre of it all.
The narrative of the campaign uses Rap as the soundscape that draws from the rituals of each city, sounds of the city surroundings and edgy lyrics as the film wears a city avatar. The campaign is launched as a series of short films that portray their respective city's nuances and showcases many celebrated names for their respective city like Deepika Padukone, Katrina Kaif, Vijendra Singh, Prosenjit Chatterjee, Rituparna Sengupta, Abir Chatterjee, Shruti Haasan, R Madhavan, Kiccha Sudeep, Aindrita Ray, Danish Sait, Sanjeev Kapoor and many others. The film has been conceptualized by JWT India, and created by Rawshark Films. The foot-tapping music is created by Dhruv Ghanekar, which brings together the soul and quirk of each city.
Commenting on the launch, Sanjeev Bhargava, Director, Brand TOI said, "TOI's Metro Supplements (TIMS) creates affinity in a hyper local way like no other media – building conversations, highlighting happenings and hangouts, bringing alive engaging platforms and collaborations, all leading up to your City's pop culture. Through its evolved content, the brand encourages motivates and excites the readers to explore their own city like never before! TIMS as a supplement brings its readers just that-right from fashion to culture to the popular to the unexplored."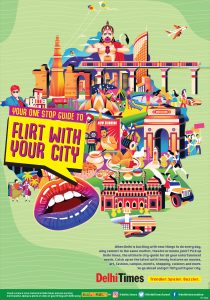 "It helps you flirt with your city. Our product Bombay Times, Delhi Times, Gurgaon Times, Chennai Times, Bangalore Times, Calcutta Times and other supplements captures this social buzz like no other media. From the latest cinema review to newest cuisine in the town, from latest gig update to best fitness regime for you, from the newest earworm music to hottest celebrity gossip, our newspaper keeps one updated on the trending topics in and around the city," continued Sanjeev.
"Our 'Flirt with your City' campaign is built around this key thought. So, pick up the newspaper, and stay updated with the social chatter of the city. Plan your weekdays and weekends, go out and explore the city. We have packed more fun, color, youthfulness in the paper and strengthened the content around movies, food, fitness, fashion, campus and music. With more engaging content, new exciting IPs and integrated activities, we intend to bring readers closer to their respective city, and reinforce the thought that it is one-stop shop of everything one needs to stay connect with the buzz in the city."
"To bring the TOI's Metro Supplements (TIMS) essence to life, we have created a face-off, a musical city versus city rap battle between different cities, where people, icons, characters, rappers and even objects of each city are extolling the values of their city, the city as seen through the Times. The name of the city itself becomes an audio device.  For example, Kolkata is not just Kolkata, it's also Goal-Kata, as football is the most popular religion here. The local music and local lingo leela is the vocal veins of this film, a binding factor, replete with city specific instrumentation and lyrics," commented Senthil Kumar, Chief Creative Officer, JWT India.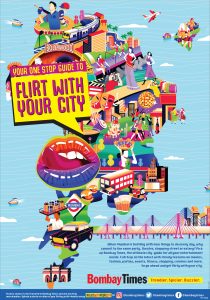 "It's your City's Daily Rap versus Another City's Daily Rap. The visual style is mixed media brought alive from various elements of the city. It is an amalgamation of the slice of life, Stop Motion Animation, Hyper-Lapse captures, 2D Flash Animation, Compositing within Times Newspaper and Traditional Cell Animation and of course Times Newspaper headlines and snapshots from a day in the life of your city. The ambition for this campaign is to create a dynamic anthem for each city driven by its unique pop-culture with the City Times at the center of it all."
The campaign is designed as multimedia communication including Print, TV, Digital, OOH etc., supplemented with a whole host of print & digital activations to experience the city. Through next couple of months, TOI will bring forth many on-ground activities that allow the city residents to explore the city rituals more like city crossword, flirt trails, etc. This also invites every city resident to add their bit of the story to the campaign through user generated content and share using #FlirtWithTheCity. The best submissions will get featured in their respective city supplement.
Source: J. Walter Thompson India