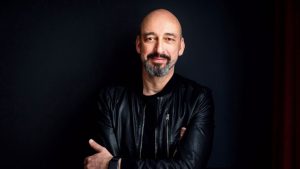 The acclaimed creative director is joining Plan.Net's management team to further develop the agency group's digital creation activities in Hamburg. Before moving to Plan.Net, Kutschinski was CCO Germany and Global Creative Leader Customer Engagement & Commerce at Ogilvy.
Plan.Net is delighted to announce this new injection of creative power in Hamburg, where Michael Kutschinski is to take on the position of Managing Director Creation at Plan.Net UX. In his new role, he will be working closely alongside founder and Managing Director Christoph Mecke in running and further expanding the agency, which specialises in user experience.
Here, the main focus will be on the interplay between creativity and technology in optimising user experience across all digital channels. He also plans to provide ongoing assistance to existing Plan.Net clients in their internationalisation activities. Michael Kutschinski will be reporting to Klaus Schwab, Managing Partner of the Plan.Net Group.
As Michael Kutschinski explains: "I've been interested in the area of user experience for 25 years. The interface between people and machines – and therefore also between people and brands – has become almost infinite during this time. Together with Plan.Net UX, we will use our creative expertise to ensure that all the interaction points for our clients offer maximum benefits."
Until the end of last year, Michael Kutschinski was Chief Creative Officer at Ogilvy Germany and Global Creative Leader Customer Engagement & Commerce at Ogilvy, Berlin. He spent the last 15 years at the WPP subsidiary, which he joined in 2004 as Executive Creative Director, before being promoted to Global Chief Creative Officer of OgilvyOne Worldwide until OgilvyOne was integrated into Ogilvy.
During this time, Kutschinski (53) looked after major accounts such as BMW, Deutsche Bahn, Nescafé, o2 and Volkswagen. His CV also includes positions at Jung von Matt in Hamburg and at Pixelpark in Hamburg and New York. Over the course of his career, Kutschinski has won over 350 awards and has been on the panel of judges at Cannes Lions, The One Show, the Art Directors Club and the New York Festival.
Plan.Net UX Managing Director Christoph Mecke is delighted at this new creative addition to the team: "Michael Kutschinski and I are both very passionate about digital brand experiences. These days, an outstanding user experience is the most important interface between brands and people. I am very much looking forward to continuing this mission together with him."
Klaus Schwab, Managing Partner of the Plan.Net Group, adds: "We are very proud to have one of the top creatives in the digital sector as part of our management team here in Hamburg. Michael Kutschinski combines first-class creative expertise and vast international experience with an in-depth understanding of all things digital. Together with him and Christoph Mecke, we want to focus our attention even more on developing relevant experiences for major brands."
Source: Serviceplan Group