After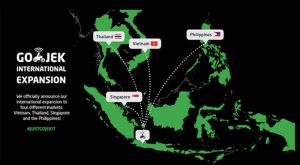 months of rumours, Indonesian ride-sharing platform Go-Jek has announced plans to expand its operations into four new Asian markets as part of a US$500 million investment and growth strategy.
The new markets are Singapore, Vietnam, Thailand and the Philippines, which the company says in a statement it will enter "within the next few months".
While it provides numerous services in its native Indonesia—including food and grocery delivery, event tickets, cleaners and even massages—Go-Jek says it will begin initially with its original ride-sharing service in the new markets.
The announcement comes shortly after Go-Jek secured its latest round of funding, from investors including Google, Tencent, JD.com and Singapore state-owned investment company Temasek.
Nadiem Makarim, Go-Jek founder and CEO, said Go-Jek's entry will provide the choice that consumers in the four markets do not have right now, a sentiment that is illustrated by Uber's recent exit from Southeast Asia after selling to local rival Grab.
"We hope our presence will provide the welcome competition markets need to thrive," Makarim added.
Talk of Go-Jek's expansion, particularly into Singapore, has been swirling for months, with some concluding the company's imminent arrival was a factor in Uber's decision to bow out of Southeast Asia.
Source: Lovely Mobile News