Godrej protekt, a range of hand hygiene products from Godrej Consumer Products Ltd., launched a new campaign featuring a social experiment that attempts to convince parents to not take away the joy of monsoons from their kids. And while children enjoy the monsoons, Godrej protekt handwashes vouches to keep them safe. The brand has released a digital film of this experiment charting out the difference of monsoon experience between parents and children.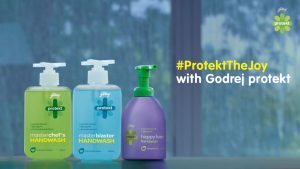 There's no denying that kids love monsoons. For them, the season means fun and adventure. On the other hand, all it means to the parents is smelly clothes, mucky shoes and more than anything else, the risk of germs and the increased possibility of diseases. Hence, parents stop their kids from fully enjoying the monsoons.
To change this typical parental behaviour, Godrej protekt performed this social experiment which is conceptualised by Creativeland Asia. They captured what kids had to say about their parents' opinions about the rains. They then captured parents sharing their childhood experiences from during the monsoons. Which brought forward the fact that they truly enjoyed the rains – dancing, making paper boats, jumping in water puddles, playing football, etc.
Just the way their kids desire to now. In an unexpected twist, protekt then revealed the parents' stories to their kids, right in front of the parents themselves! This obviously led to looks of surprise from the children, and sheepish smiles from the parents. The experiment ends with protekt requesting parents to let their kids have the monsoon which they themselves enjoyed, and signs off with the brand thought – #ProtektTheJoy.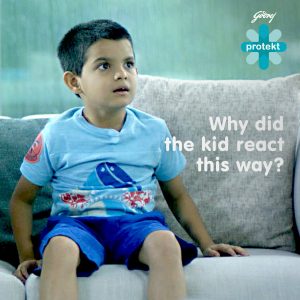 Sharing his views on the social experiment, Sunil Kataria, CEO – India & SAARC, Godrej Consumer Products Ltd. said, "Nowadays, children are exceptionally inquisitive about their environment and rains are just the same for them. They are unstoppable and we should not control them from enjoying the monsoon and playing in the rains. While playing they get their hands dirty and come in contact with a considerable measure of germs. Godrej protekt, as a brand, believes that parents should not stop children from exploring rains and enjoying monsoons, an important part of their childhood experience. This has been the central idea of the social experiment protekt has carried out. The essence of playing in the rains and parent child bonding is well captured in the video."
Anu Joseph, Chief Creative Officer, Creativeland Asia said, "Godrej protekt has always believed in encouraging kids to do what they like without fear, meanwhile promising to keep them protected from germs. This campaign stems from the same idea. By reminding parents of their childhood, the attempt was to persuade them to not take away the little joys of monsoons from their children."
Source: Creativeland Asia