Tire Company Goodyear launches its new summer tire EfficientGrip Performance with an unusual marketing idea.
The paddle-wheel of Hamburg's famous steamboat "Louisiana Star" was covered with a special design that transforms it into an almost 7 meter high tire. The paddle wheel-tire was seen in the Port of Hamburg and on the river Elbe.
Since 1999 the luxury liner is one of the major attractions in the Port of Hamburg. To the huge number of visitors, its paddle-wheel communicates instantly that the Efficient Grip Performance offers the perfect grip when wet.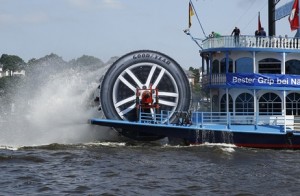 The printed air duct sheet, which is mounted on the paddle wheel, is car-wash-resistant. It covers 100 m2 of Alucobond-panels. The whole construction design weighs 400 kg. Its surface has a diameter of nearly seven meters, which means it has the height of a multi-story house.
The giant paddle wheel-tire in Hamburg was created by German advertising agency Leo Burnett. The Frankfurt based agency also developed the new Goodyear campaign. The claim "Made to feel good" addresses the consumer in a more emotional way.
"This unusual advertising platform complements our classic print campaign we designed for the new product," says Fabian Schreiber, Marketing Manager at Goodyear.
During this weekend, the Goodyear paddle wheel steamer will be – as usual – available for round trips on the inland waters of Hamburg.