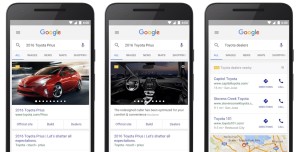 Google has launched 'Model Automotive ads', a mobile search ad format for auto manufacturers in the US.
The ads will be served up to anyone who searches for the name of the model being advertised. The format aims to provide users with a showroom-like experience with a carousel of high-quality images of a car's exterior and interior, along with information on features, all within the search results.
From there, they can be directed to the advertiser's site to customise and order the car via a 'Build' button, or get Google Maps directions to the nearest dealership via 'Dealers'.
Google says the format is based on its own research, which shows that viewing images is the single most common mobile action when shopping for a vehicle. The search engine has seen a 37 per cent year-on-year increase in searches for "pictures of [name of automotive brand]", 80 per cent of which come from mobile.