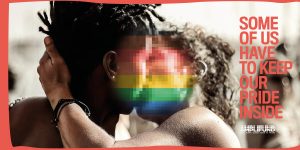 Grey London has created the visual identity and launch poster campaign for Amplifund – a philanthropic initiative led by global LGBTQ media organisation, Gay Times.
Launched by Tag Warner, Gay Times CEO, and in partnership with human rights charity GiveOut, Amplifund is supporting LGBTQ activism in media to help increase the acceptance of LGBT communities around the world.
The initiative also plans to bring more diverse voices to the forefront of mainstream LGBTQ media in the UK and US, where there is often a lack of understanding of experiences of LGBTQ outside of westernised societies.
To launch the foundation, Grey London has created a series of posters that reflect the censorship of LGBTQ life around the world, including the UK, by using a pixelated rainbow flag to hide scenes showing authentically everyday queerness.
In one, a couple kissing are pixelated with a rainbow, alongside the text "Some of us have to keep our pride inside". In another, two people hold hands with the copy "Some of us still have to hide who we love". Over the course of the campaign different LGBTQ flags will be used to highlight the different communities and identities that the fund will benefit.
Each poster features the 'Amplifund: Until Every Queer Voice is Heard' logo and lock-up which has also been designed by Grey London.
Two media and activist organisations, based in Iraq and Jamaica, are the first global partners working with Amplifund. They'll get support to help them reach queer people who face potential danger due to anti-LGBTQ laws and social norms.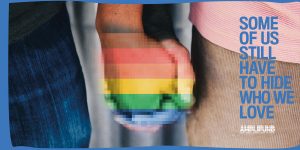 Amplifund has partnered with GiveOut – the award-winning UK-based charity for LGBTQ human rights activism worldwide, which ensures all donations and proceeds are distributed to partners after a high degree of due diligence in line with international charitable organisational standards.
Tag Warner, CEO at Gay Times, says: "This campaign is not only about raising awareness of Amplifund's mission to support LGBTQ activists and media organisations in other parts of the world, it's also a chance for us all to reflect on the current state of our community. One thing I fundamentally believe is that we all want to be seen for who we are. We hope Amplifund and the work our partners do will enable queer people to feel understood, recognised and heard in the places they call home."
Grey London's Creative Chairman Adrian Rossi adds: "When we met Tag and heard about his ambitions for Amplifund, we just had to get involved. It's never been more important for queer voices to be heard around the world, which is why the whole agency has got behind it. This is just the start of what we will achieve together."
The campaign will run in print this weekend, at OOH sites across the UK and across social media during the month of Pride and beyond.
Source: Grey London