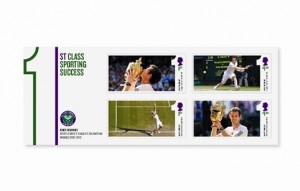 Hat-Trick Design has created a set of stamps celebrating Andy Murray's Wimbledon victory using a template design reserved for the event of a national sporting success.
In January the consultancy was asked by the Royal Mail to create 'a flexible design that could be adapted to suit a range of potential sports to celebrate British sporting success,' according to creative director Gareth Howat.
'The simple typographic idea of the 1 for the first class success lent the flexibility it needed to be turned around quickly. The images had to be selected really quickly, so as soon as Murray had won, we started looking at the shots to be chosen,' says Howat.
Hat-Trick senior designer Alex Swatridge says that the '1st Class Sporting Success' route was chosen over another option using flags as 'it had a nice tie in with Royal Mail, it's flexible and can celebrate everything.'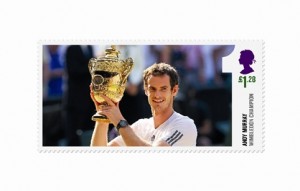 'Other flag options could have been politically challenging,' she adds.
Hat-Trick, which is rostered by Royal Mail, also works with Wimbledon.
Alex Swatridge says that during the early stages of Wimbledon, the consultancy was already being asked to start making preparations in case of victory.
'We contacted the Wimbledon photographer on the Sunday of Murray's win, and received the images on Monday,' says Swatridge, who adds that within a week both Andy Murray and The Queen had approved the design.
The template could be adapted and used again according to Swatridge.
The project follows the success of Royal Mail's stamp series celebrating every Team GB gold medal winner, which was carried out in-house at the Royal Mail, and designed quickly in the wake of the games.
The issue consists of four stamps printed within a miniature sheet, will retail at £3.76 and is available from 8 August.