Head & Shoulders and Saatchi & Saatchi London have unveiled their latest campaign: 'Scalp Brave'.
The campaign aims to empower people to be bold, brave and celebrate the confidence that Head & Shoulders gives. The campaign represents a move away from previous campaigns, with the central idea revealing a different perspective on what a healthy scalp can look like.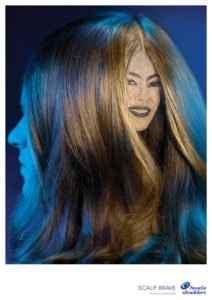 Working with Rob The Original, an artist, barber and internet sensation, the three print executions show different men with shaved likenesses of Head & Shoulders' celebrity ambassadors: Giovanni Dos Santos, Sofia Vergara and Odell Beckham on their scalps.
Rob The Original was chosen for his creativity, taking the scalp to a whole new level and using it as a canvas for his art. With a 400,000 strong following on Instagram, he has become a celebrated social influencer and celebrity within his own right.
The print campaign was shot by Oleg Tolstoy, relative of world famous Russian writer Leo Tolstoy, and eminent photographer based in London. Famous for his celebrity portraits, Tolstoy was chosen for his striking and beautiful portraiture.
The integrated campaign launches today on social media through Head & Shoulders brand ambassadors; Giovanni Dos Santos, Sofia Vergara and Odell Beckham reaching a combined audience of 13 million people. Followed by print and poster activations, which will run in North America, and three 'making of' "40 films which will run on the Head & Shoulders YouTube page.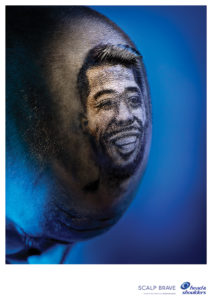 A US nationwide partnership with Walmart for the Copa America soccer tournament this summer will see an experiential pop-up studio being run by Rob The Original alongside brand ambassador Giovanni Dos Santos to show off his barber skills to shoppers.
"Everyone knows Head & Shoulders removes dandruff. But beyond removing dandruff, Head & Shoulders also fosters a healthy scalp" commented Oggie Kapetanovic, Head & Shoulders Brand Director for the Americas. "An artist needs a clean canvas to create and a healthy scalp is the perfect canvas for Rob's art."
Clinton Mason, Global Creative Director from Saatchi & Saatchi, London added "On Head & Shoulders we're always looking for new ways to visualise a healthy scalp – hair is one thing, but scalp? With Rob The Original we've found a truly original way to showcase it – as a work of art. His work is unbelievable and opens up so many possibilities for how we show a healthy scalp in a way that is intriguing, cool and has never been done before."