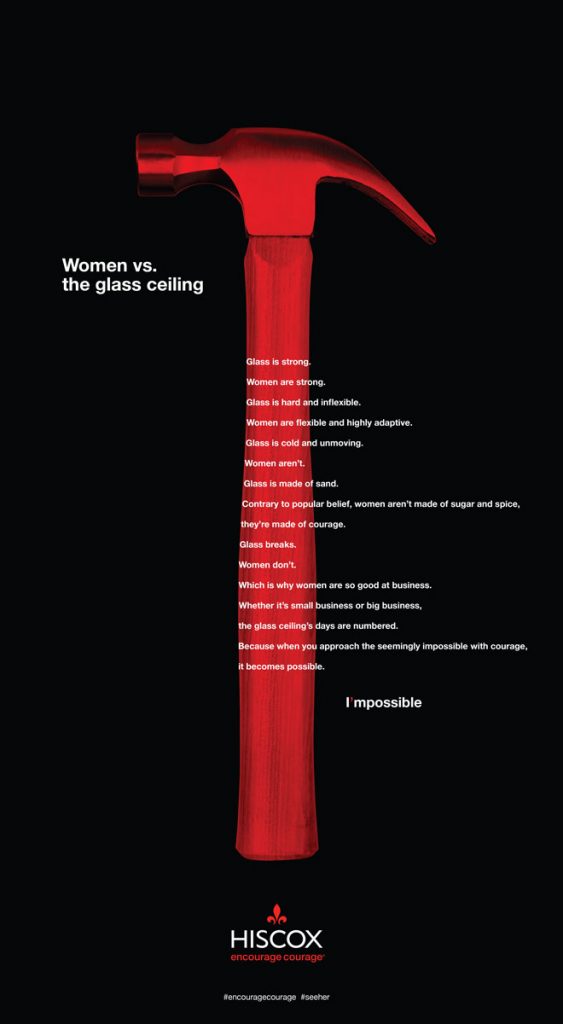 Hiscox, the international specialist insurer, kicked off the next evolution of its I'mpossible campaign with a full-page ad in The New York Times in honour of International Women's Day.
This next phase celebrates the courageous spirit and strength of female business owners and executives. Hiscox's I'mpossible campaign, an extension of the award-winning Encourage Courage brand platform, focuses on the positive power of risk-taking to transform the seemingly impossible into something possible.
The new print ad features a hammer and applauds the women who courageously continue to lead the charge of breaking through the glass ceiling. Produced in partnership with gyro, Hiscox's marketing and advertising agency of record, the ad encourages women to shatter this barrier.
"Hiscox remains committed to inspiring female business owners to overcome the impossible by fostering and supporting their courageous spirit," said Russ Findlay, US Chief Marketing Officer at Hiscox. "We are proud to serve these business owners whether they are launching their businesses, hiring their first employees or creating new products. Not only today on International Women's Day, but every day, Hiscox is dedicated to #PressForProgress by creating a gender inclusive environment and challenging others to do the same."
Hiscox is also proud to support #SeeHer, a movement led by the Association of National Advertisers (ANA) whose mission is to increase accurate portrayals of women and girls in U.S. advertising and media by 20 percent by 2020, the 100th anniversary of women gaining the right to vote. The ANA is the largest marketing and advertising association in the US.
Source: gyro