Honeywell a leader in Connected Building technologies, announces a public awareness campaign to educate people about the importance and benefits of a 'Healthy Sleep' with its Brand Ambassador and Bollywood Actor Kareena Kapoor Khan. The campaign has been conceptualised by The Womb.
Out of the top 10 most polluted cities in the world, nine are in India. The air quality in these Indian cities has reached alarming levels owing to vehicular pollution, rapid urbanisation and construction, industrial and domestic emissions. Pollutants like cooking smoke, cigarette smoke, cleaning agents, dust in upholstery, pet dander when coupled with outdoor air pollution make the indoor air even more unhealthy. Amidst all of this, it is impossible to enjoy a healthy sleep at our homes.
The Honeywell 'Healthy Sleep' campaign draws attention to the fact that even while sleeping, we inhale the polluted air which is full of germs, dust and PM2.5 particles which is why sound sleep alone is not always a healthy one. There are various industry reports that link air pollution to poor sleep. The aim of this campaign is to increase public awareness and to educate people about the relatively unknown hazards of indoor air pollution.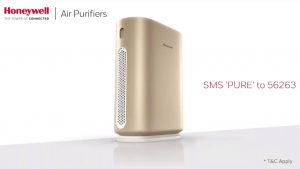 Honeywell's latest TVC that is being launched as a part of the larger Integrated marketing campaign features Kareena Kapoor Khan as she underlines the merits of a 'Healthy Sleep'. The 40 seconds TVC highlights that a healthy sleep is more important than a 'good night's sleep' for an active, more productive and a healthier lifestyle.
Navin Talreja, Co-Founder, The Womb, said, "Air purifiers are a small category as Indian consumers fail to find relevance and believe that pollution only exists outside homes and not indoors. Our challenge was to find a relevant benefit that not only builds penetration but also continued usage. Everyone desires good sleep. We chose to create dissonance with this concept by posing a simple question — Is it healthy sleep?"
Talking about her association with the company and the latest TVC, Kareena Kapoor Khan said, "I am happy to be associated with Honeywell once again for its strong technology expertise. Health and fitness is of top priority for me and my family. My latest campaign with Honeywell talks about how sleeping soundly just ensures that we do not wake up feeling lethargic and irritable but is still not enough for a healthy mind and body. Even while sleeping we inhale the polluted air. I am happy I'm helping address an important issue with this campaign."
Honeywell is a leading brand in the indoor air purification space with one of the widest portfolio available to address pollution inside homes, cars, and institutions. Its complete range of air purifiers is available on eCommerce platforms like Amazon, Flipkart, and PayTM, and offline channels, including large and small format retail stores.
Source: The Womb