INNOCEAN Worldwide (INNOCEAN) introduced "GLATUS," everyday wearable smart sunglasses, becoming the first advertising agency to produce a direct-to-consumer Information and Communications Technology (ICT) product. GLATUS is now available for pre-order via Kickstarter, the world's largest crowdfunding platform.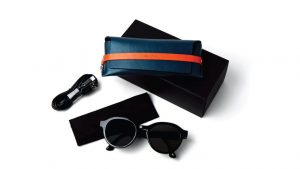 GLATUS was designed by INNOCEAN to help people enjoy everyday outdoor activities by monitoring personal UV exposure, and help prevent drowsy driving by monitoring drivers' alertness and the air quality in their vehicle. GLATUS is a life assistant that provides valuable information, warning them about strong UV exposure.
The main function of GLATUS is the real-time personal UV exposure detection system that sends an audio notification to the user. UV sensors on both sides of the sunglasses track the UV index from sunlight at various locations and provide voice alerts according to the risk level. For example, it gives real-time voice alerts such as, "Your sun exposure is high. Be careful." The UV sensors have been designed, after numerous tests, to cover various angles of sunlight, and have international patents pending.
GLATUS can also monitor the driver's condition in real-time through its sensors which measure air quality in a vehicle. An audible alert informs the driver with "Get some fresh air," helping to maintain favorable air quality. Blink pattern analysis also provides alerts based on the risk presented by drowsiness which often occurs when people drive in direct sunlight for long periods of time.
A premium version of GLATUS includes automatic electrochromic lenses. The lenses automatically adjust to current sunlight in 0.1 seconds, which provides comfort when you move indoors from outdoors or when a vehicle enters or exits a tunnel. This smart-reaction technology completed all safety tests for detecting and adapting to light changes in real time.
Unlike existing smart glasses that are too complicated or difficult and have unnecessary and unused modifications, INNOCEAN has emphasized the R&D in creating a product that many people can relate to and will actively use. The INNOCEAN spokesperson emphasized, "We expect GLATUS to contribute in expanding the smart eyewear market, offering a sophisticated product with a reasonable price."
An exclusive mobile app (iOS and Android) for GLATUS enables users to check their daily record on UV exposure and driving conditions.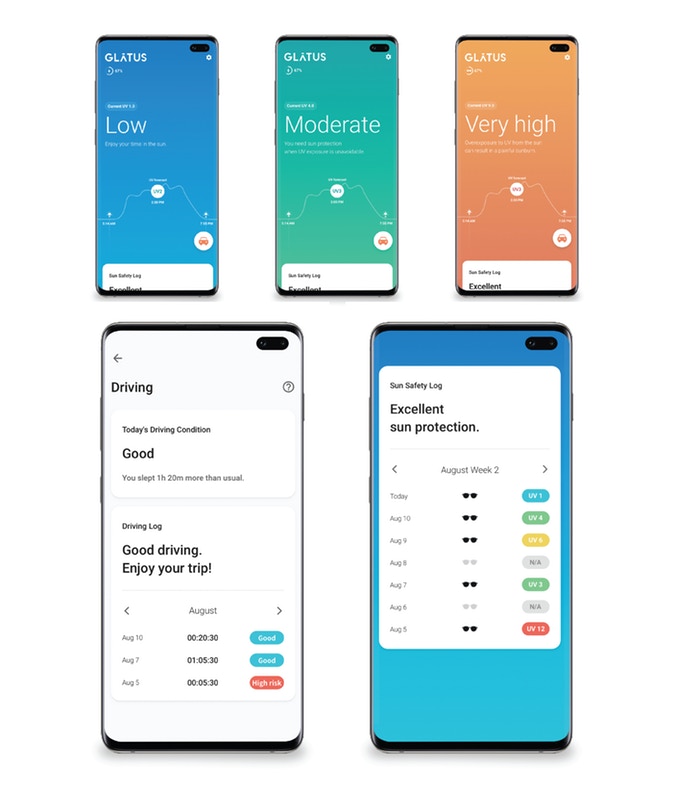 GLATUS has been designed with the needs and comfort of every user in mind. The round frame, which is the most popular design for sunglasses, flatters any face shape. It is able to be customizable, making allowances for all facial angles, guaranteeing an easy and comfortable fit no matter how long it has been worn.
In addition, none of the smart components are near the wearer's ears, ensuring a relaxed and easily adjustable fit. All parts of GLATUS sunglasses have been tested and approved through an exhaustive series of design processes. GLATUS also features a customized battery to make the sunglasses extremely lightweight: each pair of sunglasses weighs only 1.3 oz.
GLATUS is priced at $295 for the regular version which comes in four colors and has UV protection and driving assistant functions. The premium version, priced at $355, comes in black and is equipped with automatic electrochromic lenses.
INNOCEAN has begun the R&D process to develop the next version of GLATUS to include sunglasses for activities, including outdoor travel and sports, in addition to driving. It was unveiled at the Consumer and Electronics Show (CES) in 2018 and at SILMO, the world's largest optics and eyewear exhibition, held in France in September, 2019.
Source: INNOCEAN Worldwide