Isuzu, makers of the award-wining D-Max pick-up, launches a new branded content series, The Isuzu D-Max Driving Derbies, fronted by presenters Adam Smith, from Sky Sports, and Joe Thomlinson, from Football Daily, to drive brand awareness amongst football fans.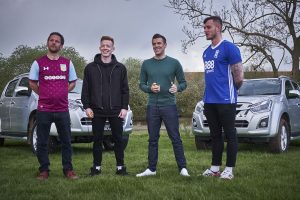 The six-part series features fans from rival teams, from both the English Football League (EFL) and the Scottish Premiership League (SPL), going head-to-head in driving challenges to crown an overall victor and settle the long standing club rivalries.
Including Celtic v Rangers and Sheffield Wednesday taking on Sheffield United – episodes include 'Storm in a Teacup', where the presenters are challenged to keep their trophy full of water, whilst being driven by a fan in a trusty Isuzu D-Max over a multi terrain course. The winning team is decided by the amount of water left in the trophy at the end and the shortest time taken to reach the finish line.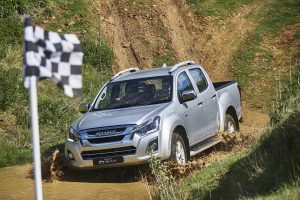 The multiplatform campaign integrates broadcast, digital and social content from Sky Sports' Soccer AM and Diagonal View's Football Daily. A bespoke ad reaching millions of men across a range of Sky Media's channels will have red button activation taking them through to the three minute episodes.
The series will also be available On Demand via the Sky Sports section of the Sky TV guide – giving Sky customers multiple ways to discover the content.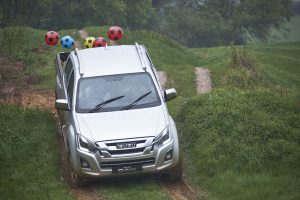 Socially the combined audiences of Sky Sports and Football Daily will enable Isuzu to engage 5.5 million Facebook followers, and more than 2 million You Tube subscribers.
Connecting TV and digital elements of the campaign, Sky AdVance technology will identify and re-target users who have seen the TV ad with click-through display ads, taking users to a branded Isuzu content hub on the Sky Sports website.
The campaign was co-created by Sky Media, Diagonal View and Mediacom. Having already seen positive results from sponsoring the Welsh Rugby Union, Isuzu wanted to deepen its connection with sports fans. Sky Sports was perfectly positioned to deliver this, especially in light of the shared audience between Sky Sports' viewers and Isuzu's target audience.
George Wallis, Marketing Manager at Isuzu UK, said, "We're looking forward to engaging with sports fans with this exciting new video series. The Award-Winning D-Max pick-up is already a household name, with our previous sporting sponsorships, and we're proud of the new set of content we've created together with Soccer AM and Football Daily. With such clear audience synergies between Isuzu and Sky Sports we're confident we can engage and entertain this new audience of football enthusiasts, because like the Isuzu D-Max – It Just Works."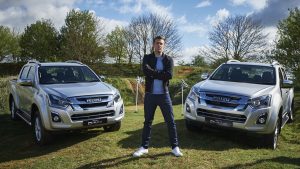 Rachel Bristow, Director of Partnerships at Sky, said, "We're always looking to push boundaries and think of new and exciting ways to help our clients engage their target audiences. In a Sky first, we're using a unique mix of both our TV and social channels to ensure Isuzu engages sports in fun compelling way."
The campaign was brokered by Mediacom (Birmingham). It starts from 31st May and will run until 31stAugust, throughout the beginning of the much-anticipated English and Scottish football leagues.
Source: Sky Media