Brand strategy and design agency Williams Murray Hamm (WMH) has designed a visual identity for London-based coffee shop and bakery 21 Sid, which builds on the importance of hand gestures in Italian communication.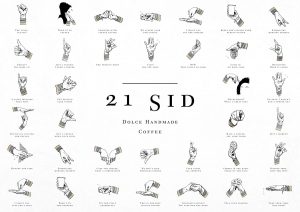 21 Sid, near London Fields in East London, is run by self-taught baker Laura Giovanna Lo Faro, who supplies baked goods to numerous cafes around London and bakes goods for her café on site.
With a myriad of independent coffee shops in London, creating a personal and unique brand for Laura's business that went beyond a simple typeface or set of colours and was capable of not just standing out but engaging customers emotionally was key.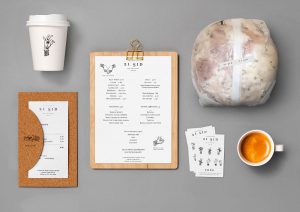 WMH's solution is a visual identity based on the theme 'Dolce Handmade' – to reflect Laura's handy skills both as a cook and also a passionate communicator – and 'Liquid Perfection'.
The agency commissioned Italian illustrator Gabriele Grassi to capture, in a series of unique illustrations, a wide range of Laura's hand gestures which are typical of the exuberance of Italian communications.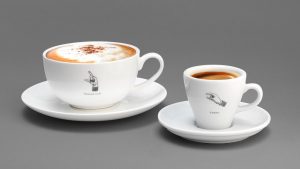 The hand-drawn, monochrome, illustrative style is inspired by traditional etchings and encyclopaedias.
The branding comprises dozens of illustrated hand signals, such as a raised hand with a raised forefinger (denoting 'Just a second I need a coffee'); a closed hand with a raised pinkie ('A latte skinnier than this'); and two hands rubbing together ('Get excited, cake inside').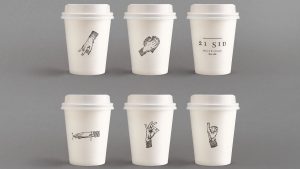 The designs – which were done pro bono by the WMH team, who are regulars at 21 Sid – is being used across a wide array of items including badges; bills; staff aprons; cups and wrapping as well as in-store.
Garrick Hamm from WMH commented: "Hand signals can communicate as much as words, especially in Italian culture. Having bought our morning coffees from Laura for many months, we immediately knew that the branding for her coffee shop would need to reflect her personality, her Italian heritage, her passion and her charisma."
Laura added: "Williams Murray Hamm has created a beautiful visual identity for the business, with the iconic hang gestures helping to convey the trust and the affection that we hope our customers feel when they walk into 21 Sid." 
Source: Williams Murray Hamm