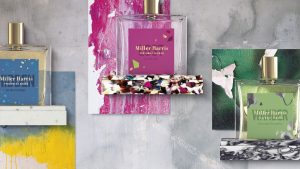 jones knowles ritchie (jkr) has designed the brand identity for the first in a wider range of urban foraging inspired scents for London perfumer Miller Harris: Hidden on the rooftops, Lost in the city and Wander through the parks.
"Foraging is now more relevant than ever. From foraged botanical cocktails to artisan food, we wanted to bring that sense of discovering the beauty in the ordinary to fragrance, creating a range of urban foraging-inspired scents from 'wild' London. There are hidden treasures to be discovered in the city," said Matthew Huband, global marketing director at Miller Harris.
"The three scents serve as a celebration of a city that is in fact 47% green space, incorporating notes from ingredients found in London; bees deliver honeysuckle pollen to their hives on the brutalist roof of the Royal Festival Hall, wild rhubarb sends juicy stalks to mingle with iron railings and nettles spring stinging from concrete cracks."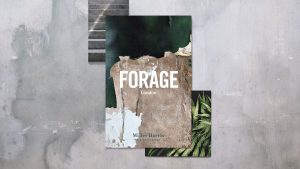 The central concept of urban foraging is also carried through from the initial concept and ingredients through to packaging, structural design, launch event material and brand communications.
"We took the brief literally – foraging London ourselves for inspiration for the designs, looking for the wildness within the city itself," says Sean Thomas, executive creative director at jkr.
"In doing so, we've examined the ways in which nature and the city creatively co-exist – just as the city sends tendrils ever further into nature, so nature surges back through the urban sprawl, pushing up through the pavement and creating unexpected oases."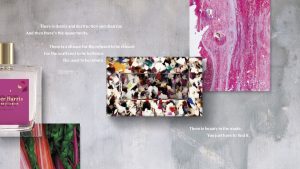 Foraged botanicals may inform the scent, but it's the London wilderness' convergence with the debris of the urban landscape that informs the brand look and feel. Seeing beauty in the waste, jkr enlisted Smile Plastics to create reused and reusable fragrance holders that double as keepsake box for treasures and trinkets. Made with composites from waste material, it's these distinctive plastic fragments (from bottle tops to yoghurt pots) that also inform the packaging design across each bottle.
Forage follows jkr's recent work with Miller Harris on the brand identity of new perfumes Tender and Scherzo, both inspired by F. Scott Fitzgerald's iconic work of colour and contrast, Tender is the Night.
Source: jones knowles ritchie