Key4Women, a network dedicated to helping entrepreneurial and professional women succeed in business, in partnership with independent agency, Marcus Thomas LLC, launched a social media campaign to coincide with October's National Women in Small Business month.
Marcus Thomas created the campaign concept, #RealLifeBosses, which aims to combat gender bias in the workplace, while celebrating and elevating female managers and leaders. Women are encouraged to share photos of themselves and other women in leadership positions who have influenced their careers across social media platforms, including Facebook, Twitter and LinkedIn.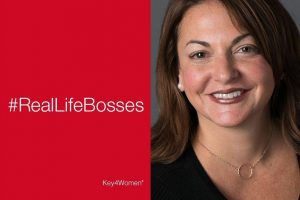 Since its launch on October 1, the campaign has had immense success. Across Facebook, Twitter and LinkedIn, there have been more than 1.5 million impressions and 147,000 of those people have taken action, including sharing, liking or commenting on the posts. On LinkedIn, the campaign is performing well above LinkedIn's 0.1% benchmark, with the video receiving a click-through rate of 0. 0.42%. Across the three platforms, nearly 16,000 people have watched the video to 95% completion. (All stats are through October 15.)
The campaign was driven by findings from the Key4Women Confidence Poll, which surveyed 220 women business leaders to better understand their perspectives on making high-level financial and strategic decisions for their companies.
Of note, 71% of women surveyed are highly optimistic they will achieve their goals within the next 12 months, both personally and professionally. Among Millennial women, confidence is even higher, with 76% feeling highly optimistic about the future. Additionally, 95% of women business owners plan to grow or expand their business activities within the next two years, and are "very" or "extremely" confident about their ability to succeed in managing conflict.
The #RealLifeBosses campaign aligns with KeyBank's own mission to support women in business. Along with the Key4Women initiative, KeyBank is committed within their own ranks to guide women toward success and recognition in the workplace. At KeyBank, 66% of their workforce is made up of women, with 55% in leadership roles.
Source: Marcus Thomas