Kia Motors, Havas Media, Innocean Worldwide and media technology company Oath announce a new campaign designed to showcase important life moments for families both inside and outside of the car, and drive brand uplift for the new Kia Stonic.
Working with Havas Media and Innocean Worldwide, Oath has created a multichannel video, editorial and branded content campaign aimed at young families and adults, that will portray what really matters to them, chiming with Kia's 'Live Every Moment' brand messaging.
Analysing insights from Oath's audience of over a billion people globally across its media brands and services, including content and subject matter enjoyed by people with young families, the campaign is devised and produced in collaboration with its in-house RYOT Studio team. It brings young parents and adults together around the joys and tribulations of being part of a family unit, and uses the breadth of Oath's properties and platforms to engage with those relevant audiences.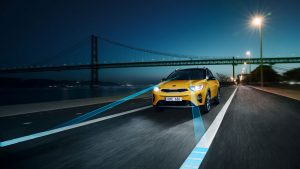 An original two-minute branded content video, created in conjunction with Oath's in-house production team, explores the relationship between a father and son as they work through dad embarrassing his child with the "worst Halloween costume ever" and being 'reinterviewed' for his position of 'dad' from the passenger seat of the family car.
The video was unscripted with a real father and son taking a typical journey in a family car to bring to life the idea of the pair living in the moment and giving viewers an insight into an everyday family's interaction around a familiar, and funny, scenario.
The video will be supported by editorial and branded content on the HuffPost Family Time channel, delving into different family motivations, showcasing colourful and honest opinion from British parents on topics such as divulging the moment when they first felt like a parent, to what you really need to prep for a stress-free family car journey. They will also reveal, with personal accounts, how miserable experiences can often become the stuff of family legend, forming relatable and informative content for viewers.
The two-minute original video will also give rise to additional, shorter videos that will be distributed alongside it on Tumblr with GIF sets and images, the omnichannel Brightroll DSP and video syndication platform BeOn, with branded editorial native content amplified through Gemini; delivering honest, funny and relevant content bringing the values of the new Kia Stonic to life to the right audiences across Oath's properties and beyond.
Source:Â OathÂ