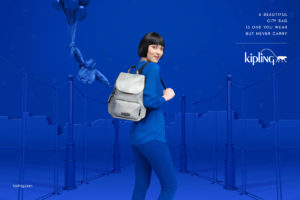 Kipling, the brand known for its iconic casual bags and monkey, has selected DDB & Tribal Worldwide, Amsterdam as its lead creative agency for all global campaigns. DDB & Tribal Worldwide, Amsterdam worked with Kipling for over a year to create the cohesive global campaign launched this summer.
Kipling's new campaign shifts to a brighter, bolder and more integrated style, focusing on everyday functionality for all aspects of life; from work, school, travel and leisure, while keeping the best of what it's known for, its colourful design.
Gwenda van Vliet, Global Marketing Director, Kipling, commented: "We were looking for an agency that was able to include us in their creative process and offer a true seat at the table with short communication lines. DDB & Tribal Worldwide, Amsterdam was able to step away from the traditional model, an approach that has been very beneficial in bringing out the best of our working relationship. Being a global brand themselves, DDB understood our regional needs and created an outstanding globally consumer-validated campaign relevant for each region. But above all, they created a campaign that steps away from generic fashion photography to something that is really ownable by Kipling and builds true brand recognition."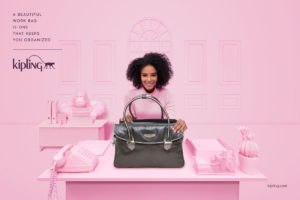 Shot by Lebanese photographer Eli Rezkallah, the visuals use the strong eye-catching approach of colour blocking in a monochromatic world, with clear, benefit-driven copy and the iconic Kipling monkey always present as the 'sidekick'.
Joris Kuijpers, Executive Creative Director, DDB & Tribal Worldwide, Amsterdam commented: "With our increasing portfolio of fashion brands, we've learnt how important personal taste, feeling and emotion are in shaping a fashionable brand. But to get there you really have to create the work together with your client. Gwenda and her team have a strong vision on creative output too, which makes the process fast-paced and great fun for not just Joris Kang'eri and myself, but for everyone involved as well."
Linda de Graaff, Business Director, DDB & Tribal Worldwide, Amsterdam commented: "We're thrilled to be the chosen partner to launch Kipling's new global campaign and seasonal product campaigns. We have been working with them for over a year now, and we're really proud of the work. It's nice to finally see it out there."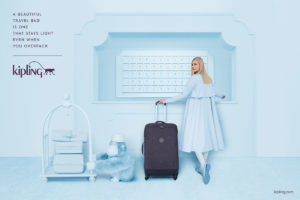 The campaign will be implemented in all regions from EMEA to CASA and NA to APAC, with each country executing the content in their selected channels ranging from online bannering, social media, print ads, to billboards and shop windows.
DDB & Tribal Worldwide, Amsterdam will continue to collaborate with Kipling to roll out further activations, digital strategies and communications across all its channels.
Source: DDB & Tribal Worldwide