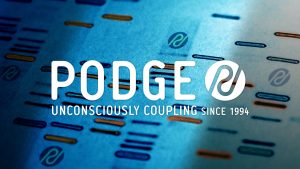 Lab, the independent digital agency that uses a blend of neuromarketing, psychology and behavioural economics to design, build and market digital brands and experiences, has revealed a new creative concept and visual identity for the next Digital Podge, which takes place on Friday 30th November.
Lab's concept for the now-legendary industry event, Unconsciously Coupling, is based on the insight that Podge has been creating links between people since its launch in 1994 – from marriages through to business partnerships. With Podge's 25th anniversary approaching in 2019, the campaign celebrates the event series' ability to facilitate new relationships amongst digital industry peers.
Playing on Gwyneth Paltrow's famous quote about her 'conscious uncoupling' from Chris Martin, Lab's creative platform for the event reflects the idea that Podge attendees are 'unconsciously coupling' from the moment they receive their invitation. Guests can develop valuable relationships and partnerships within the monogamous security of Podge, without them even being aware of it.
Lab has designed the event's microsite and invitations, as well as the guest experience on the day, which will feature a number of surprise creative technology installations which employ some of Lab's neuromarketing techniques. The web platform was built by FX Digital.
The visual identity for the event is inspired by DNA, a unique, organic design created by nature, which mirrors how relationships develop organically at Podge. Lab chose to use the colour orange, to convey playfulness, friendliness and vitality; and blue, to represent tranquillity, trust and openness.
Started by Phil Jones in 1994, Podge is a unique invitation-only event series exclusively for the digital, creative, sports and music industries.
Tom Head, Director, Lab, said: "As long-term attendees of Podge, we're absolutely delighted to have had the opportunity to develop a creative approach for the event. Going to Podge always forges new relationships, often in unexpected ways, and that's what we wanted to highlight with our concept."
Phil Jones, Founder, Podge Events, said: "The Lab team have been fantastic, from initial conceptual ideas right through to execution. I know they have a few things up their sleeve for the day, which I'm really excited about!"
Source: Lab