Karma Nirvana, the UK Charity that supports victims and survivors of forced marriage and honour-based abuse, has launched a social media campaign to build public awareness of this little understood issue here in Britain.
Leo Burnett London created the campaign for the charity which held the first National Day of Memory for victims of 'honour' killings on 14th July. The Day of Memory is a result of a lobbying campaign led by the charity in partnership with Cosmopolitan magazine.
The National Day of Memory encouraged the British public to help raise awareness of the issue and in doing so let victims know what they are suffering is not right, and that help is available. The 14th July 2015 was chosen as the date because it would have been the 29th birthday of Shafilea Ahmed, the 17-year-old British girl who was suffocated by her parents, in front of her siblings, after suffering years of honour-based abuse.
When Shafilea's parents brutally suffocated her with a plastic bag, they were hoping to erase this 'stain' from their family history. The social campaign aimed to use plastic in a more positive way: to thwart that intention by rebuilding and restoring Shafilea's memory through the medium of 3D printing. A memorial bust of Shafilea was programmed to be revealed in response to peaks in public support behind the hashtag #RememberShafilea. In this way, the public helped commemorate victims like Shafilea, and showed that the issue of 'honour'-abuse could no longer be ignored.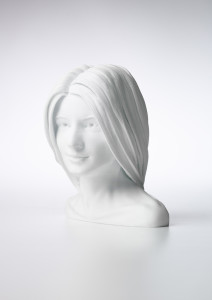 The Day of Memory was created in memory of Shafilea and the estimated 5,000 women across the world that have been victims in honour killings, at least 12 of whom are British. The true number is thought to be far higher as many women simply 'disappear' or their cases go undetected.
Leo Burnett's work follows an earlier campaign for Karma Nirvana that included a special plastic promotional Cosmopolitan cover-wrap, complete with an image of a girl suffocating, that was used for a lobbying event at the Houses of Parliament.
Phillip Meyler and Darren Keff, the creative team behind the idea said: "Having drawn on the potent truth of Shafilea's death it was important to us to honour her with an authentic representation of who she was in life, beyond the 'victim headshot' everybody saw in the news. Having only 2D photos to work with, we liaised closely with Shafilea's police case officer and her best friend Melissa to develop the 3D CGI CAD design used by the 3D printer to create an accurate memorial sculpture to honour her memory."
Jasvinder Sanghera CBE, survivor of forced marriage and founder and CEO of Karma Nirvana said: "Forced marriages and honour crimes remain hidden abuse. Our victims are extremely isolated and often not aware of support, which gives perpetrators greater power to control. Therefore raising awareness is fundamental to reaching those in need and our relationship with Leo Burnett is at the heart of enabling us to achieve this outcome".
Jasvinder continues, "This social campaign was vital to us breaking the silences of the many silenced, and important to gain greater public awareness for all to play a part in tackling these heinous abuses."