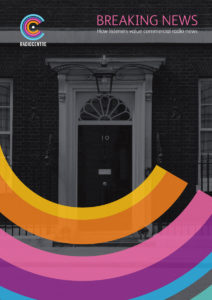 Commercial radio news provides a vital and valued service to listeners, reinforcing radio's position as the most reliable and trusted medium in an era of proliferating fake news, according to new research to be launched in Parliament on November 21.
Breaking News: How listeners value commercial radio news, explores the views of commercial radio listeners on different types of news, the role it plays in their lives and overall levels of trust in media.
The report by Radiocentre, found that radio is the most trusted medium, with 77% of listeners saying that they trust radio for national news. Listeners particularly value regular news updates throughout the day especially:
in the morning (when 83% turn to radio)
when travelling in car (when 85% turn to radio)
during local emergencies (when 60% turn to radio)
The report showcases extraordinary examples of news teams from around the country responding to major events, providing audiences with up-to- the-minute news and information.
Minster for Digital Matt Hancock MP, who provided a foreword for the report, and LBC's breakfast show host Nick Ferrari will be attending the launch. The event is hosted by Mims Davies MP, former commercial radio journalist and new Chair of the All-Party Parliamentary Group on Commercial Radio.
Siobhan Kenny, CEO of Radiocentre says: "Commercial radio's great strength is providing short, punchy news all day.  It scores particularly well during emergencies and local incidents.  Above all, it is trusted, accessible and impartial. To ensure listeners continue to have access to this treasured resource, we look forward to the Government publishing its proposals on commercial radio deregulation."
The Rt Hon Matt Hancock MP, Minister of State for Digital says: "Commercial radio continues to play a crucial role in providing news and information for millions of people. Radiocentre's new research provides a welcome reminder of the value of this coverage whether it's providing headlines in the morning, updates when travelling in a car or breaking news throughout the day."
Mims Davies MP, Chair of the All-Party Parliamentary Group on Commercial Radio says: "It was really encouraging to see the great results from Radiocentre's new research on how listeners value and trust commercial radio news. As a former commercial radio journalist and presenter I know how important it is to provide high-quality regular updates and it's clear from this latest study that listeners agree.  I look forward to working with the radio industry over the next few years in order to bolster the important public service that it provides."
Source: Radiocentre