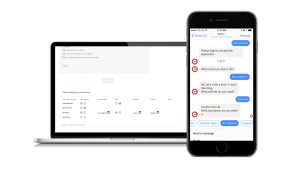 Creative industry headhunters, LIZH, are launching a new approach to project-based recruitment using chatbot technology. Taking advantage of the increasing shift in creative industry talent that is seeking freelance work over full-time senior employment, they have launched a new digitally-enabled business model.
LIZH engaged creative and innovation agency BBD Perfect Storm to re-engineer the process and design a platform that moved the current model from human-led email and phone contact to a chatbot interface.
BBD Perfect Storm conducted research amongst creative industry talent and clients to inform the re-engineering of the process. The chatbot is intended to make recruitment much more convenient to the talent as well as faster for LIZH's clients.
The platform called GENIE, which is integrated into Facebook Messenger, mixes automation with human intelligence to ensure that the right people are matched to the right creative problems. When the algorithm can't answer a question LIZH can intervene.
Early deployment of this chatbot technology has found GENIE is identifying and engaging with the right talent for each brief far faster. This is combined with overwhelmingly positive feedback from the talent side of the market.
In 2018, chatbot technology in Western Europe is expected to dramatically come of age. The global chatbot market is expected to reach USD 1.25 billion by 2025, according to a report by Grand View Research.
Nick Grime, Partner at LIZH said: "We didn't set out to build a chatbot, we set out to be better. Better at helping the best in class talent take control of how they work and better at curating this talent around creative problems so that they can do amazing things. The team at BBD Perfect Storm showed us that chatbot technology is best placed to enable this. We're excited for Genie's potential, she's one of the most advanced chatbots in the world today and she's just getting started. It's like LIZH on speed!"
Danny Daley, Director of Innovation at BBD Perfect Storm said: "LIZH contacted us with the following question: "As creative talent move towards flexible working over traditional salaried jobs, what will the headhunter of the future look like? We believe that the chatbot technology we have deployed is just the beginning of a very disruptive future in this industry."
Source: BBD Perfect Storm